Introduction
ICAAD's TrackGBV: Pacific Islands Country Reports summarize an evidence base of over 20 years of case law that tracks the patterns and impacts of biased decision-making by the courts for cases involving gender-based violence (GBV). The country reports and regional report dive deep into the trends displayed on the TrackGBV Dashboard, an interactive tool for stakeholders launched by ICAAD in 2021. The Dashboard is the only comprehensive source of this information in the region and includes data from Fiji, Kiribati, Papua New Guinea, Samoa, Solomon Islands, Tonga and Vanuatu, from 2000-2021. 
The data shows that nearly 80% of cases involving GBV in Pacific Island Countries raised some form of bias in sentencing decisions, with a quantifiable discriminatory impact on over 50% of cases. These contentious factors, which include gender stereotypes, rape myths, and customary practices, makes clear that access to justice is a major obstacle for victim/survivors of GBV.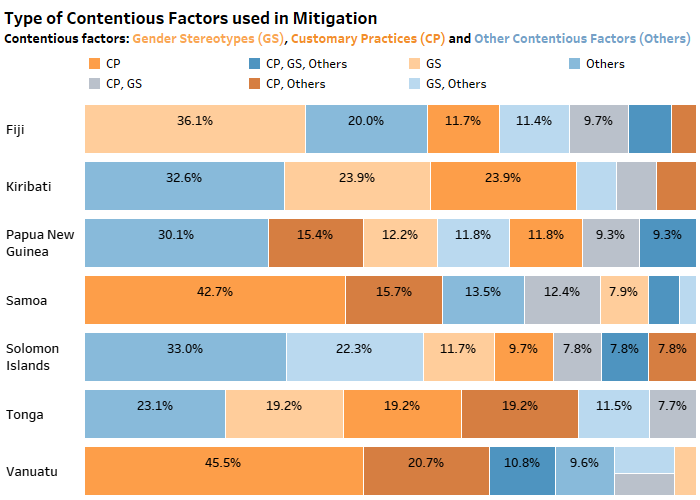 "Despite the pervasiveness of GBV, only a small percentage of GBV cases make it to court, and even then, the outcomes are impacted by bias and discrimination. We wanted to understand exactly which factors are contributing to a culture of impunity for perpetrators in order to help our partners advocate more effectively for change," said Erin Thomas, ICAAD Director and Change Facilitator. 
TrackGBV provides key information about gaps in access to justice and can be used by civil society, judiciaries, and the Ministry of Justice to improve legal protections and ensure accountability and consistency in judicial decision-making. 
Key Findings from the Regional Report
Victims/ survivors who come before the courts are typically between the ages of 6 and 17, pointing to the need for support for children and youth as they access the justice sector.

In court proceedings, contentious factors (ie. gender stereotypes, customary factors, rape myths, privileging the perpetrator over the survivor) were raised in nearly 80% of cases, with a quantifiable impact on sentencing in over 50%. 

In cases with charges similar to rape, sentences were on average ⅓ shorter when contentious factors were raised.

The most common procedural barriers to consistency and accountability were: lack of medical reports, misapplication of the first time offender status, and lack of victim anonymity.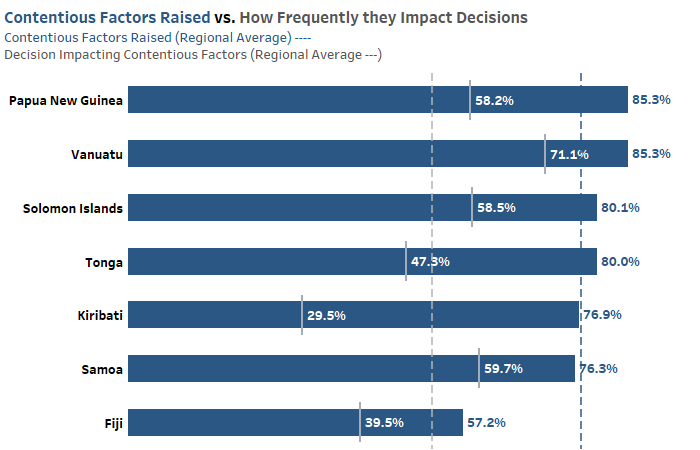 Despite progress in some countries on reducing judicial bias and improving access to justice for women and girls, TrackGBV reveals notable gaps for judiciaries across the region. ICAAD has been working closely with civil society organizations, judges, and the legal community to train them on how to use the Dashboard to help address these gaps. This collaboration has already helped inform both legislative and judicial change in the region. 
The Role of Data in Supporting Access to Justice
"Data is a key piece of the puzzle for human rights advocacy. We see time and time again that access to information is one of the major obstacles for organizations and communities working to counter GBV," said ICAAD Data Analyst Jyoti Diwan. "Our Dashboard takes information that is often opaque and unwieldy, and presents it in a way that is easy to understand – thus clearly illuminating where reform is most needed." 
TrackGBV stems from ICAAD's commitment to leveraging both law and tech to develop innovative tools that can support marginalized communities. It was made possible through over a decade of partnership with civil society and communities across the Pacific Islands region, with invaluable financial support from the Clifford Chance Foundation. Pro bono support from law firm partners Clifford Chance LLP Manatt, Phelps, and Phillips LLP and Linklaters LLP allowed for case law analysis, while pro bono technology partners Conduent and Tableau provided the legal database platform and data visualization capabilities. 
While this data is specific to the Pacific Islands region, it nonetheless offers lessons for access to justice on a global scale – pointing to patterns and trends that may well exist in other countries with similar legal and judicial systems. ICAAD is currently scaling TrackGBV to the Caribbean to continue supporting access to justice and gender equity worldwide. 
Impact Highlights 
More information about TrackGBV can be found

here

. 

As a result of ICAAD's data and research: the Solomon Islands amended its sexual offense legislation; the Fijian judiciary issued practice directives for Magistrates that were co-drafted with ICAAD, ICAAD drafted a set of five directives for Samoa and participated in a seven-week interactive train-the-trainers program, and more. 

ICAAD has met and worked with Chief Justices in Fiji, Tonga, Marshall Islands and Samoa. Coordination with the judiciary is an essential element of ensuring greater equity in the judicial process.