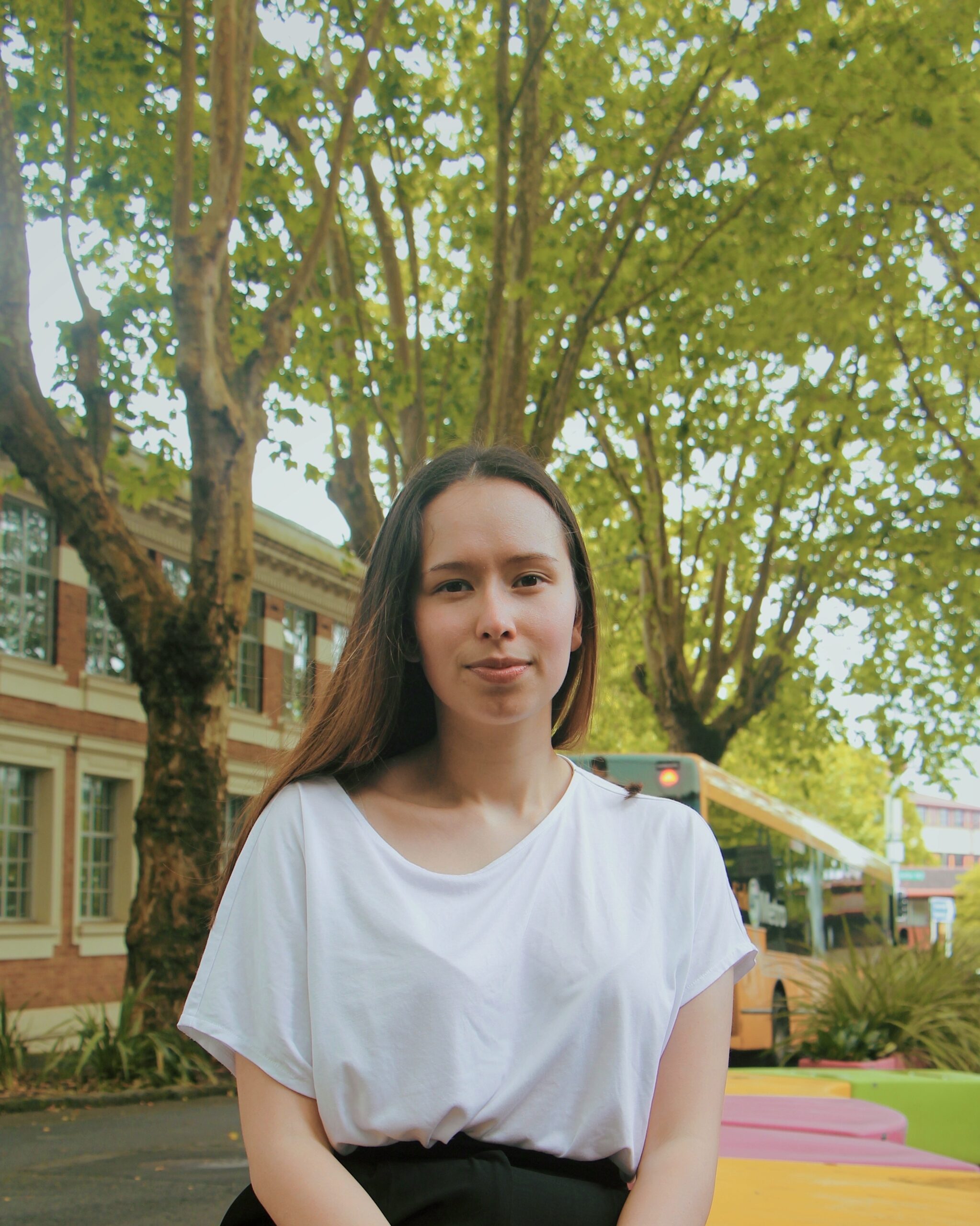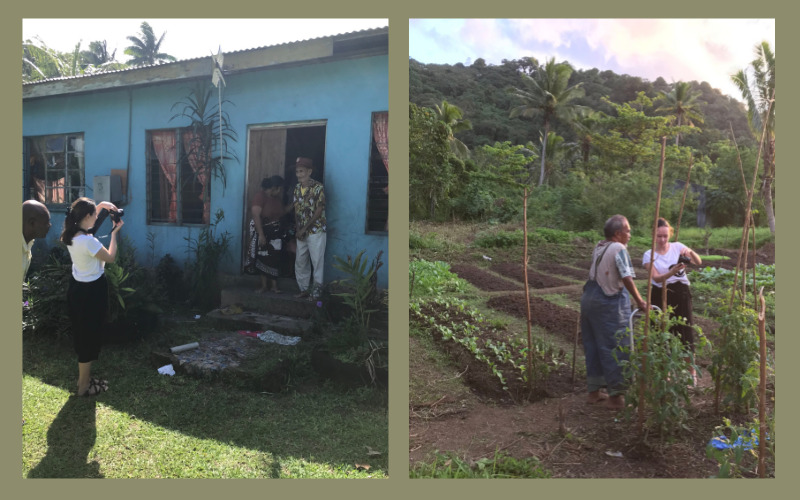 Katja Phutaraksa Neef is a political artist born and raised in Thailand and grew up in Japan and Aotearoa. She is currently based in Tāmaki Makaurau, Aotearoa (Auckland, New Zealand).
Katja is currently an Artivist-in-Residence at ICAAD, and works at UnionAID as a programme coordinator for the Indonesia Young Leaders programme across East Indonesia and West Papua. Katja is also active in her community, having previously worked for Auckland Council as a Community Climate Catalyst and is a youth leader for the New Zealand National Commission for UNESCO. She has participated in field research and workshops in Fiji, Vanuatu, Thailand, Cambodia, Tanzania, Peru, Indonesia, and West Papua, with a regional focus on Asia and the Pacific. Her academic research and advocacy interests include issues concerning Indigenous rights, forced migration and displacement, and climate justice.
Katja has completed her bachelors degree in Global Studies majoring in Sustainable Development, and the Global Environment, and a postgraduate honours degree in Geography. Her dissertation was on "Principles of Participation and Justice in Planned Relocation in the South Pacific: A Critical Discourse Analysis of National and Regional Guidelines". She will complete her research master's in Development Studies next year, focusing on Rabi Island.
How are you involved with ICAAD?
I am involved with ICAAD through the Artivist-in-Residence programme, where I am currently working on co-designing an exhibition on Banaban stories and histories with Banabans on Rabi Island in Fiji and the Auckland Banaban community here in Auckland.
I was able to visit Rabi with ICAAD where we met with Banaban elders, women, and youth to record stories, photographs, songs, and dances related to what it means to be Banaban, how they want to be represented. We were granted permission by the elders to share their stories on the condition we share them with the world. In collaboration with the Banaban community in Auckland and the community in Rabi, we are holding an exhibition on the story of Banaba at Silo 6 throughout February. Stories of Banaban displacement and life on Rabi exist but remain largely unheard by audiences in Aotearoa, New Zealand – where the colonial benefits of phosphate mining on Banaba, which reduced the island's surface by 80%, allowed the British to advance additional colonisation.
We want this virtual exhibition to allow for audiences to explore Banaban history, the story of the island and the impacts that the mining has had on the communities that now live on Rabi Island. It is also a space for audiences to explore our own identities as part of a settler state and New Zealand's personal involvement in mining and extracting phosphate from Banaba. I believe art allows viewers to explore these themes through an accessible medium regardless of language, background, and age.
To this day, the impacts of displacement are felt by Banaban communities on Rabi and in Auckland who have lost their land, their language and culture and cannot be forgotten. We want to create a virtual exhibit so that those on Rabi can see their own stories and interact with Banabans and people here in Aotearoa to connect us all.
Art and storytelling are powerful ways to both build capacity on Rabi around arts and handicrafts, as well as to extend advocacy efforts to New Zealand. My idea is to create a virtual exhibit and develop an interactive online platform to connect the Banaban Diaspora around the Pacific and in Aotearoa. I will want to translate the exhibition into the Kiribati language.
The experience and story of Banaba can inform current dialogues and planning of contemporary and future relocations of Pacific communities by raising questions of sovereignty, sense of belonging, participation, and identifying ways to uphold Pacific Island people's right to life with dignity, irrespective of whether they decide to move or to stay. 
What motivates your advocacy efforts? Who or what inspires you?
The communities and human rights defenders I have met have always motivated my advocacy efforts. Having traveled extensively alongside both my parents, who work in similar fields, I have been exposed to the impacts of development, climate change, and inequality in various contexts.
Since 2010, I have witnessed a case of failed development, disaster-induced displacement and land-grabbing of Indigenous Moken communities in Southern Thailand in the aftermath of the 2004 Indian Ocean Tsunami. I have visited the community multiple times over the past 10 years and have heard the stories of how unjust systems and land grabbing – the 'second-wave' of the tsunami – have impacted the community. 
This case made me question the purpose of participation within involuntary and forced displacement, whereby a lack of proper engagement with communities and dismissal of procedural and distributive justice prior to the building of externally designed villages led to a severing of communities' ties with the ocean and coastal resources as their main source of livelihood. I believe that advocacy plays an important role in shedding light on injustices, applying pressure, and creating dialogue.
I am inspired and motivated by the communities and people that keep fighting and speaking out, especially the communities I have met in West Papua, Cambodia, Tanzania, Fiji, and Thailand. I also believe it is my obligation, as I am privileged to have access to platforms, to not be criminalized, and to be able to speak out against government bodies and to amplify voices without overshadowing them with my own.
What is an important lesson that you'd like to share with other human rights advocates?
I believe that understanding your positionality and being able to understand how it can impact the communities and people you engage with is crucial as a human rights advocate. Within every interaction, we carry our own forms of power and create power dynamics that we should always be aware of and conscious of. It is so important to remember what grounds and drives us and to be able to reflect on our own positionality and place within any context.
You can follow Katja on LinkedIn, Instagram and Twitter.