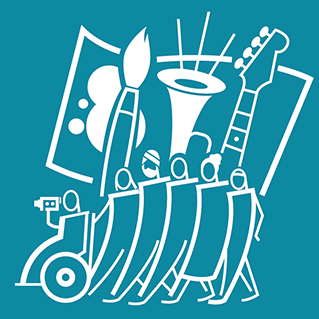 Art is an increasingly important tool for global communication and movement building. ICAAD is harnessing the power of art and creating spaces for artivists. Art can move audiences to action from the heart, and ICAAD considers fostering the next generation of artivists fundamental to fulfilling its mission as a human rights organization.
The Call
We're calling on 1-4 artists and creatives to engage with ICAAD in exploring human rights and activism. As part of the artivist-residency, artists will create a series of art pieces that explore human rights theme(s). Rolling decisions for the residency program are being made now and awards will be announced on Human Rights Day, Dec. 10, 2021.
We welcome artists and creatives with an interest in learning about human rights, and a background in visual arts including but not limited to painting, drawing, mixed media, design, photography, digital/ interactive art.
The residency is remote, and applicants can be located anywhere in the world. Preference will be given to applicants that connect with ICAAD's programmatic areas and partnerships.
What We're Asking of the Artivists
Engage with the ICAAD team in developing the collection.

Complete the agreed-upon collection by September 1, 2022.




Support the dissemination of your artwork through interviews, appearances (virtual and/or in person), etc.
$2,000-$5,000 USD per artist to cover labor, access needs, and material. Artists will receive 70% of their approved budget by March 1, 2022, and 30% upon submission of artwork.

Online Human Rights Advocacy Course for artists and creatives.

Distribution and promotion of artwork through a collaborative online campaign.

Ongoing engagement with the ICAAD Team, Advisory, and Partners.

Potential for in-person exhibitions.

Percentage of art sales.
Climate Justice

Artificial Intelligence (AI)

Women's Rights

Indigenous Rights

Citizenship / Caste / Immigration

Worker's Rights

Racial Justice




Nuclear Justice & Non-Proliferation
*But are not limited to
Proposal Submission Instructions
Please include the following in your submission:
Video or Written Statement
A 1-3 min video or 1-2 page written statement including a description of what you aim to produce in the residency, what your objective is for the residency, and what key human rights themes you'll be exploring.

Projected budget
$2,000-5,000 USD per artist to cover labor, access needs, and material

3-4 Samples of previous work


Link to websites, social media pages, or files

Email your application to: info at icaad.ngo


Rolling decisions are being made and awards will be announced on Human Rights Day, Dec. 10, 2021. 
Our First Artist-In-Residence Harbani Ahuja
Harbani created a series of poems called "Dicta" from important U.S. Supreme Court cases spanning two centuries. The law is often viewed as a larger than life concept that is inaccessible and difficult to understand. Many people also view the law as the equivalent of justice. The Dicta series exposes the gaps between the law and justice, and educates and inspires the general public to understand the timelessness of the struggle for human and civil rights in the United States. 
Watch Harbani speak about Dicta, revealing her process with two poems.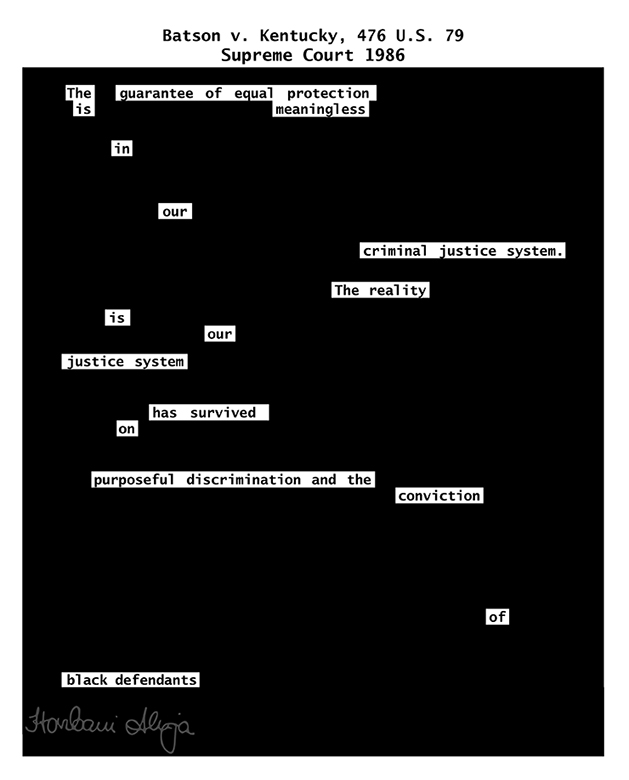 Harbani's series of poems covers themes of Women's Rights, Rights of Black People, LGBTQI+ Rights, Immigration Rights, and Indigenous Rights. We launched the first set of poems on the Rights of Black People in the ABA Journal. Her work will also be showcased at Clifford Chance's New York Offices and Graymatters. Dicta will also be showcased through a virtual interactive exhibit which will be launched at the end of the year. Listen to Harbani share about Dicta and her residency on the Legal Talk Network.
Interested in supporting ICAAD artivism?