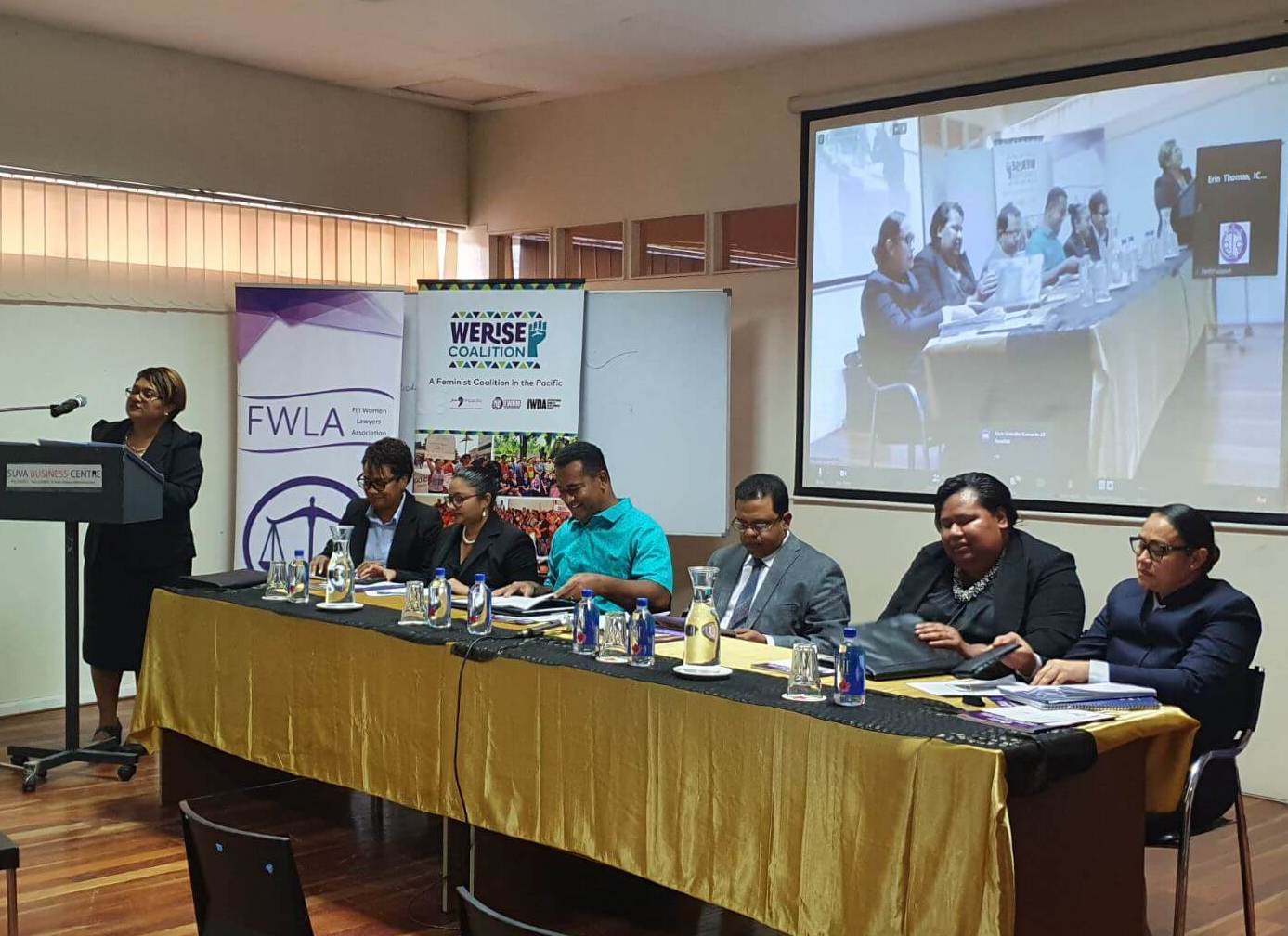 On February 10th, we presented virtually at a panel workshop run by the Fiji Women Lawyers Association (FWLA) and Fiji Women's Rights Movement (FWRM) on gender stereotypes in sexual offence cases. The keynote speaker was Justice Rangajeeva Wimalasena, and the panel included Artika Singh, a lawyer from FWRM; Filimoni Vosarogo, a senior lawyer; Kimberly Semisi, a senior lawyer from the Office of the Director of Public Prosecutions; Seruwaia Nayacalevu, Fiji Law Society Council member; Sokoveti Daunivesi, a lawyer from the Legal Aid Commission; and Erin Thomas from ICAAD. There were over 120 legal practitioners in attendance both in-person in Suva and virtually. 
The discussion focused on some of the persistent challenges in gender-based violence (GBV) cases in Fijian courts including victim-blaming and judicial stereotyping as well as the progress made to date. We shared our latest TrackGBV data for Fiji including the prevalence of contentious factors like gender stereotypes in cases and change over time.
Looking at Fiji, we see major strides taken over the last decade or so including new legislation in 2009, directives aimed at improving equity in GBV cases in 2018, and judicial training. Fiji also makes publicly available the highest percentage of case law related to GBV in the region which is a great first step towards transparency and accountability. For the TrackGBV program, this means that we were able to analyze 809 GBV cases from the magistrate courts, High Court, Supreme Court, and Court of Appeals, from 2000-2018.
To see the latest data from Fiji, check out our Comparative Report on the Impact of Gender Stereotyping on Judicial Decisions in Violence Against Women Cases Across the Pacific Islands Region, and stay tuned for the release of the TrackGBV Dashboard, which will enable advocates to interact with the GBV case law analysis.