COLONIALISM AND THE CLIMATE CRISIS
by Namita Kulkarni
Contemplate
We encourage you to explore the exhibit and share your thoughts by answering these questions posed by the Artivist.
Selected comments will be shared as part of the exhibit.
Share your thoughts on any of the paintings within the exhibit. How did any of the paintings affect you?
Your paintings showcase the harsh realities of society. "The Cruel World" and "Apocalypse Renewal" can make anyone fall for your creativity and insightfulness. I particularly fell in love with "Yaati."   
– Deepanshu
How do you honor your climate grief/anxiety or any emotions that arise when you look at climate change?
I honor my emotions about climate change by allowing myself to take a break from the news headlines and going outside. Being in nature makes me feel joyful. I often get back to my desk with a renewed sense of hope and motivation to continue working towards a better future.
– Sara L.
Share your thoughts on any of the paintings within the exhibit. How did any of the paintings affect you?
This is an amazingly depthful series connecting our ecological crisis to its legacy roots, the insidious tenticles of colonialism. Beautiful conveyance through art, this needs to go places!   
– Ishan
Share your thoughts on any of the paintings within the exhibit. How did any of the paintings affect you?
Compelling work that reaches into the depths of the climate crisis and the intertwined social dynamics. Both evocative in its portrayal of the pain experienced by the injustice borne by the Earth, and hopeful in its expression of a new way to be, bringing us closer to the Earth.  
– Karina J.
What are some simple ways you can act as a custodian of the planet, in even the smallest ways?
A simple way to act as a custodian of the planet is to acknowledge the materials needed to make the things that we consume, and to be cognizant to make choices to select those things that are less resource intensive to produce and better for our planet.
– Sam G.
Share your thoughts on any of the paintings within the exhibit. How did any of the paintings affect you? 
Congratulations. It is an amazing collection of thought-provoking paintings. Namita, your deep-research, depth of thought combined with creativity fuelled by responsible and responsive global citizen values have given birth to a unique collection of paintings.
– H.L. Sowmya A.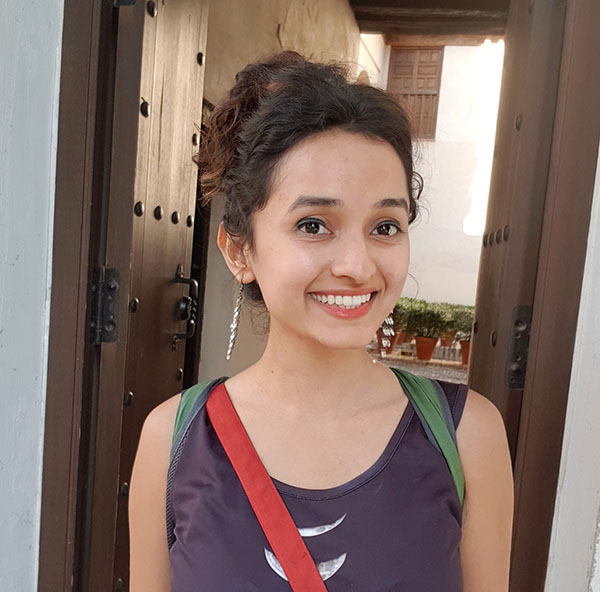 About the Artivist
Namita Kulkarni
Yoga Teacher, Writer
Website: www.radicallyeverafter.com  |  Instagram: @radicallyeverafter
Namita Kulkarni is a yoga teacher, writer and artist based in India. She's been teaching yoga for the last 12 years. A gold-medallist law graduate, she also has a Post-graduate Diploma in Intellectual property rights from National Law School of India University, Bangalore. 
Her Artivist project aims to demonstrate how colonialism has been (and continues to be) the major cause of the climate crisis. Colonialism and the climate crisis both being rooted in ever-extractive ways of life which stand disconnected from any sense of wonder and humility before the infinite workings of the planet. Her project also explores how indigenous wisdom might bring us to our role as a custodial species with a sense of belonging to the planet rather than possessing it.
I'm thankful to have come across the work of Pat McCabe, Tyson Yunkaporta, Jason Hickel and various other authors whose ideas sparked my curiosity and inspiration while working on this series. I would also like to thank ICAAD for their human rights course and all their support and encouragement that made this series possible.
Namita's Reading Recommendations:
1. Sand Talk by Tyson Yunkaporta
2. Less is More: How degrowth will save the world by Dr Jason Hickel
3. The Overstory by Richard Powers
4. Braiding Sweetgrass by Robin Wall Kimmerer
5. Returning the Self to Nature: Undoing our Collective Narcissism and Healing our Planet by Jeanine Canty
6. Monocultures of the Mind by Vandana Shiva
7. Decolonizing Methodologies by Lina Tuhiwai-Smith
8. Original Instructions: Indigenous Teachings for a Sustainable Future by Melissa K. Nelson
9. Grandmothers Counsel the World by Carol Schaefer
10. Nature Meditations by Hazrat Inayat Khan
11. Recovering the Sacred by Winona LaDuka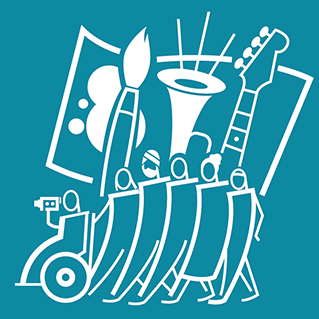 Art is an increasingly important tool for human rights and building solidarity – connecting people across borders and languages. We believe art as advocacy fundamental to ICAAD's mission as an organization, and are supporting artivists to create public arts projects. Our Artivist-in-Residence program features emerging and underrepresented artists across the world whose work explores human rights.