At the 10th Clinton Global Initiative (CGI) Annual Meeting, ICAAD and its partners announced a Commitment to Action to combat violence against women (VAW) in the Pacific Islands, where "[l]ifetime prevalence rates for physical and sexual violence by partner and non-partner among Pacific Island women falls between 60 to 80%," according to the U.N. Population Fund (UNFPA). The commitment focuses on strengthening the rule of law through a systems approach and using big data to monitor and understand the outcomes of violence on the lives of women and girls.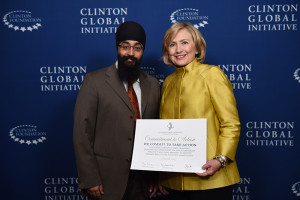 ICAAD and Partners' Commitment to Action Being Recognized at CGI Annual Meeting
(Photographer Barbara Kinney / Clinton Global Initiative)
During the Annual Meeting, Secretary Hillary Clinton graciously recognized our Commitment to Action, which was developed in collaboration with cross-sector partners who have committed to providing 4000+ hours of in-kind service over the next 3 years making the total value of the CGI Commitments $2 million:
DLA Piper LLP, Australia: Implementing partner for the region;
Manatt, Phelps & Philips, LLP: Research and analysis, rule of law trainings;
CKM Advisors: Data analytics, semantic analysis, and text mining expertise;
Huridocs: Building a case law analyzer for efficient review of judicial decisions;
Data-Pop Alliance: Big data expertise with a people centered focus;
Global Insight International: Gender analysis, data analysis, monitoring and evaluation framework design, grant writing; and
Faculty of Design Strategies at Parsons The New School: Using design strategies to tailor interventions for maximum engagement and impact.
President Clinton Speaking with International Space Station & NASA Astronauts

(Photographer / Clinton Global Initiative)

President Obama speaks on the importance of strong civil society engagement

(Photographer / Clinton Global Initiative)
Designing Against Discrimination: Accountability for VAW

Medico-Legal training to 

improve prosecution

 of VAW cases

 

Case law analysis to guide 

judicial reform

Develop a Case Law Analyzer to

increase

 judicial 

transparency 

Implement "Know Your Rights"

strategies for rural

 populations

UPR Accountability Initiative: 

Women's Rights & Int'l Law

Monitor and 

analyze case law

 on gender based violence
Using 

big data

 to understand implementation of UPR recommendations on women
Track outcomes of recommendations on women's

health and safety 
ICAAD is a tax-exempt 501(c)(3) non-profit organization of advocates, activists, and people like you who believe that equality is a fundamental human right. 

New York, NY – October 8, 2014.
About Clinton Global Initiative (CGI)
Established in 2005 by President Bill Clinton, the Clinton Global Initiative (CGI), an initiative of the Clinton Foundation, convenes global leaders to create and implement innovative solutions to the world's most pressing challenges. CGI Annual Meetings have brought together more than 180 heads of state, 20 Nobel Prize laureates, and hundreds of leading CEOs, heads of foundations and NGOs, major philanthropists, and members of the media. To date, members of the CGI community have made more than 3,100 Commitments to Action, which have improved the lives of over 430 million people in more than 180 countries.
About the International Center for Advocates Against Discrimination (ICAAD)
The International Center for Advocates Against Discrimination (ICAAD) is a tax-exempt 501(c)(3) non-profit organization founded for the purpose of eradicating structural discrimination globally, and to promote human rights norms consistent with public international law.
ICAAD uses a systems approach to address structural discrimination on behalf of women and minorities globally. We identify gaps in the societal structures that marginalize vulnerable communities using an interdisciplinary approach that combines law, technology, and art. Our evidence based research utilizes teams of experts to identify specific structural discrimination policies, marshal resources and key partnerships, and provide strategic support of local NGOs with the aim of systematically uprooting discrimination within different societal sectors (e.g. legislative, judicial, law enforcement, health, faith, etc). For more information, visit icaadglobal.org and follow us on Twitter @icaadglobal and Facebook atfacebook.com/ICAADglobal
###
Jaspreet Singh
Co-Founder, Director of Policy & Advocacy
International Center for Advocates Against Discrimination (ICAAD)
E: info@icaadglobal.org
P: + 1 (404) 319-9988
P: + 1 (917) 971-5713
F: + 1 (646) 807-4647