Despite a year where progressive ideas, anti-discrimination movements, and human rights around the world have been challenged, there's also been an awakening to the need for people to engage with government and to protect the rule of law. ICAAD celebrated its 5-year anniversary in March this year and looks at the challenges of today as a reason to be more committed than ever to the struggle for justice and equality. Celebrate the New Year with us and take a look at ICAAD's top ten moments of 2017; moments that couldn't have happened without you!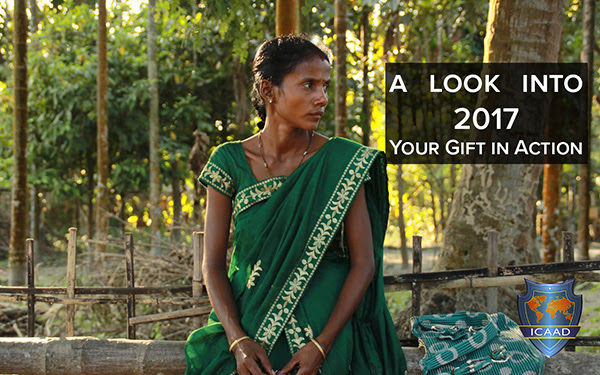 1. CEDAW Report on Fiji

The UN Committee on the Elimination of Discrimination Against Women gave an 8 page list of questions to Fiji to respond to in 2018, following the submission of a Parallel Report drafted by ICAAD on behalf of a coalition of local NGOs.
2. Strengthening the Rule of Law in the Pacific

ICAAD continued to make tremendous progress on its rule of law initiatives in the Pacific, traveling to Australia, Vanuatu, Niue, and Fiji this year. This included working directly with judiciaries, universities, women's rights organizations, law firms, and technologists to advance transparency, accountability, and consistency in gender-based violence (GBV) cases.
3. Hate is viral, but countering it is too

ICAAD was brought on by the Open Society Foundations Communities Against Hate initiative to conduct a landscape analysis in the United States on public opinion of minorities and immigration, activist movements, and prejudice reduction strategies.
4. Sexual Harassment Train the Trainers Workshop

ICAAD, in partnership with The Fiji Women's Rights Movement (FWRM), organised the first ever train the trainers workshop to raise awareness on combating sexual harassment in the workplace. ICAAD conducted the training with partner law firm Manatt. Participants were from key civil society and government sectors and expressed a significant shift in their knowledge of harassment, and their ability to train others.
5. Partnering with IBM to Advance TrackSDGs

TrackSDGs is a data analytics platform designed by ICAAD to help NGOs, Foundations, Corporations, and UN Agencies strategically invest resources to advance the Sustainable Development Goals (SDGs). IBM's Thomas J Watson Research Center partnered with ICAAD this year to advance the effort.
7. Growing Relationship with Conduent to Advance TrackGBV & TrackSDGs

ICAAD expanded its relationship with data science company Conduent to develop TrackGBV, a sentencing database that provides advocates and judges tools and data to improve access to justice for women and girls in gender based violence cases. Conduent has also been assisting ICAAD with the development of the TrackSDGs platform.
8. UN UPR Report on India

ICAAD, Nazdeek, and Pajhra submitted a joint NGO report on India, and the UN High Commissioner on Human Rights incorporated multiple sections of our report for India to respond to during its Universal Periodic Review.
9. Using Data and Legal Education to Bridge the Gap in Kenya

Hakijamii is an organization dedicated to securing economic and social rights for marginalized communities in 15 counties around Kenya. Hakijamii partnered with ICAAD to launch a Kenya-wide data collection, legal rights training, and advocacy initiative to close gaps in: health, water, sanitation, education, land rights, and governance.
10. Environmental Law and Governance in the Pacific Island region

ICAAD partnered with students and faculty of Queensland University of Technology and University of the South Pacific, along with new partner law firm King & Wood Mallesons to draft a chapter on climate justice, which will be part of an open-source text book for law students throughout the Pacific.