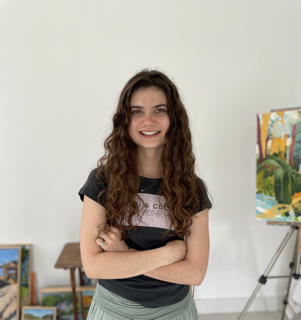 Chloé Hupin (she/her) is a senior at Vassar College in Poughkeepsie, New York, and started as an ICAAD intern in June 2023. She is an Art History major, with a concentration in Madonna and Child imagery of the early Italian Renaissance. Chloé is also passionate about ceramics, and leads the Ceramics Club at her college.
What is your role at ICAAD?
As an intern at ICAAD this summer, I am primarily engaging with the organization's Artivism initiative. My role is to promote the organization's six Artivists-In-Residence. Through a combination of marketing and outreach, I will be planning art exhibitions and virtual events. I will also be conducting research and writing articles about topics pertaining to arts-activism, and will be developing my skills in social media content production. All of these projects present the opportunity to develop my existing skills in research, writing, and communication, as well as to learn more about the workings of a non-profit organization.
What do you bring to this internship, and what drew you to this opportunity?
I am excited to apply the knowledge and skills that I have acquired from my Art Historical background to this internship. Art History has taught me how to look more closely at the world around me. This field of study is unique in that it incorporates both a deep perception of visual details and an understanding of historical contexts. I was drawn to this internship because I am fascinated by the ways in which art has historically pushed boundaries and invoked change. From studying topics such as ancient Chinese art, the Italian Renaissance, French Impressionism, and Pompeii, I have learned that art plays a critical role in revealing the social, political, and economic truths of its time. 
This summer, I look forward to exploring how art intersects specifically with human rights themes. I am eager to connect my Art Historical thinking to present-day issues such as the climate crisis and women's rights. Additionally, working with artivists, writing about advocacy, and learning about current human rights developments will provide me the foundation for growth in this field. Overall, I am grateful to be involved in ICAAD's mission of engaging with communities in order to build a more equitable future!
What is an important lesson that you'd like to share with other human rights advocates?
I think the ability to listen is a very important part of advocacy work. Listening can serve as a counterbalance within societies, like America, that so highly value personal advantage and gain. The best advocacy work happens when people approach others with listening and self-awareness, rather than operating for their own motives. This allows advocates to achieve a deeper understanding of peoples' situations and needs. I also think our society often associates listening and quietness with passivity. Successful advocacy work proves the opposite: it shows us how listening is a powerful action. Through listening, advocates create space and generate the potential to uplift the voices of others. 
You can get in touch with Chloe on LinkedIN.