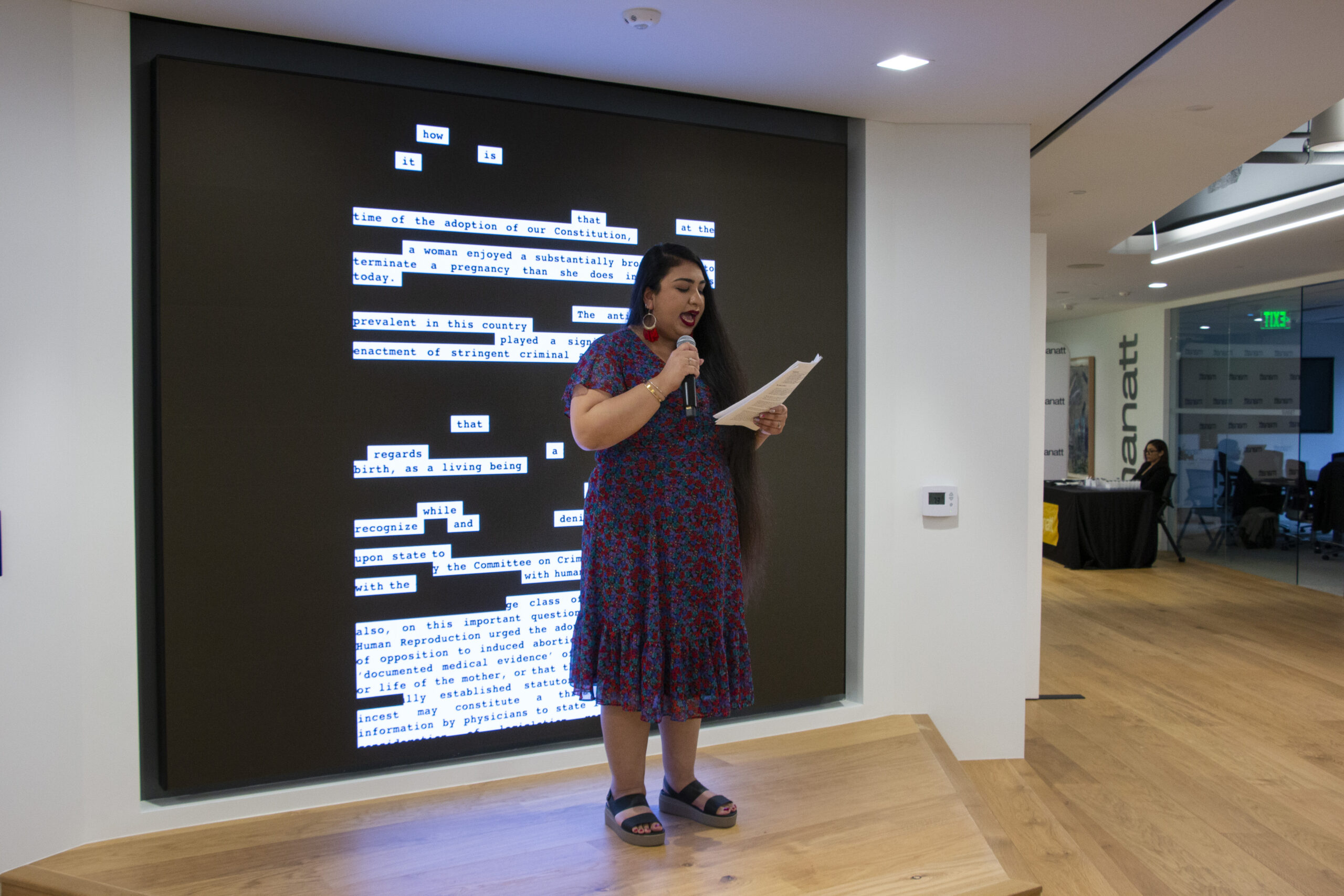 Dicta is on the move! We were thrilled to display ICAAD Artivist, Harbani Ahuja's, Dicta legal poetry collection at a special showcase at the offices of Manatt, Phelps and Phillips LLP in Los Angeles. Harbani and ICAAD Co-Founder, Jaspreet Singh, attended the event to present the collection.
Dicta is a public arts project developed as part of our Artivism program, where we support emerging and underrepresented artists from around the world. By redacting sections of key Supreme Court cases in U.S. history, Harbani's collection of poems highlight the gap between law and justice, and the impact that this disconnect has on equality under the law.
Our goal for Dicta is to facilitate conversations about law and justice amongst a wide audience – including lawyers, artists, students, activists and more. In addition to hosting physical exhibitions of Harbani's work, her poems are accessible online through an interactive virtual gallery. The gallery includes a series on Rights of Black People, Immigrant Rights and Women's Rights, with collections on Indigenous Rights and Right to Love coming out later this year. 
"Dicta is a brilliant showcase of how written laws in the justice system do not always reflect the injustice of the world, and bridges art and activism in a way that connects people with something that can feel as intangible or impersonal as Supreme Court decisions," said Sirena Castillo, Director of Pro Bono at Manatt. 
"Providing access to justice for all, no matter a person's skin color, gender identity, sexuality or immigration status, is part of Manatt's DNA, and we're extremely proud to partner with ICAAD to feature Harbani's incredible work highlighting the legal inequities we too often see for historically underrepresented communities", concluded Sirena. 
ICAAD was so excited to share Harbani's work through this special event, which received a write-up in the LA Daily Journal, and look forward to our continued collaboration with Manatt as we advance social justice through the arts. 
Jaspreet said: "It was fantastic to bring Dicta to Manatt's Century City office and see first-hand how lawyers are impacted by Harbani's inspiring collection and inspired to do more work for social good. Manatt has been a long standing supporter of our Artivism initiative, and this event was a testament to the power of the arts in inviting reflection and building solidarity."  
Our engagement with Manatt for this special showcase is a continuation of our commitment to building relationships with the legal community alongside NGOs and artists so that together, we can advance equality through the arts. If you would like to get in touch to sponsor our Artivism initiative and bring Dicta to your space, email us at info@icaad.ngo