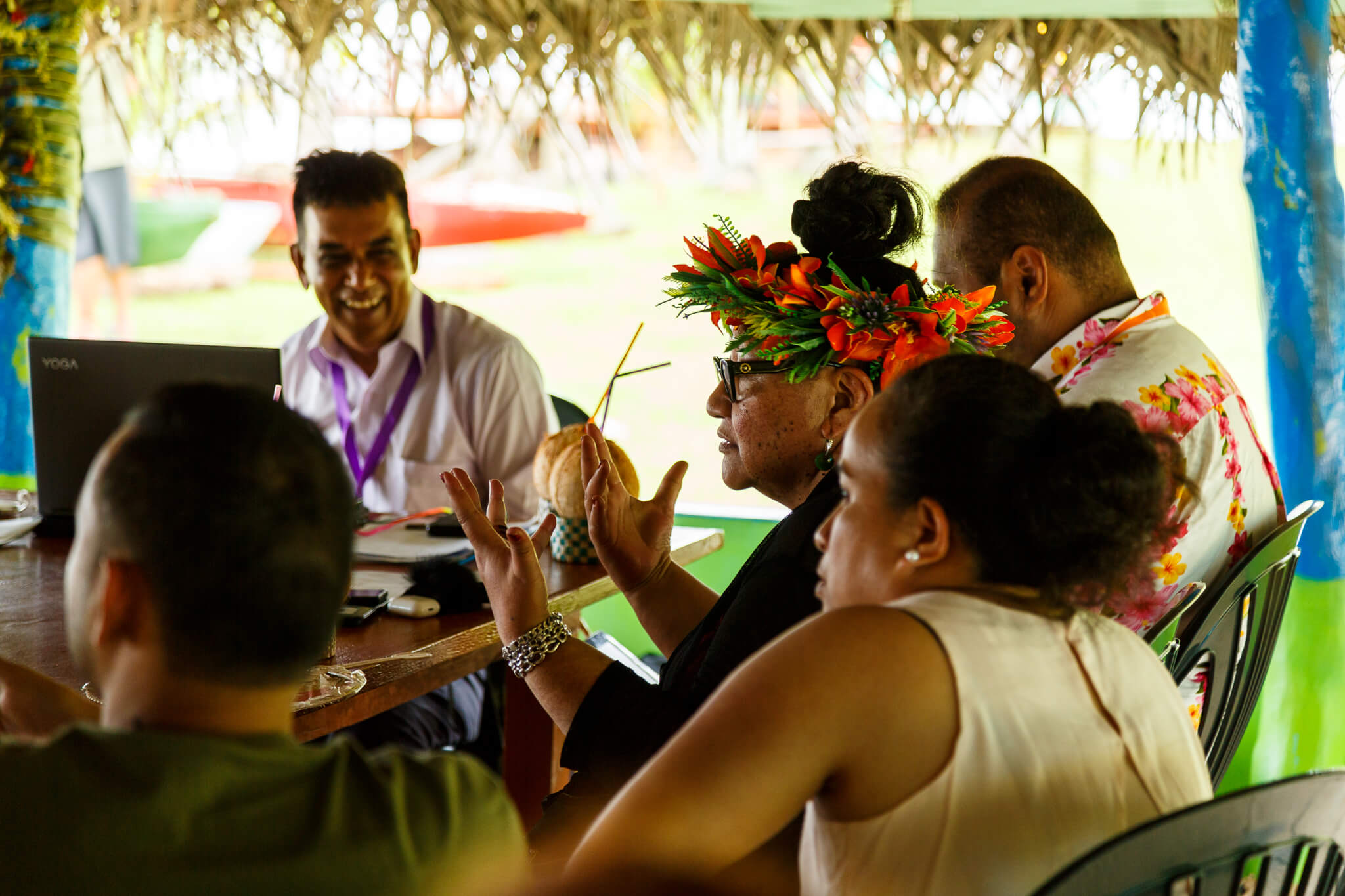 On October 19, ICAAD joined the group of powerful Pacific civil society advocates to sign the historic Kioa Climate Emergency Declaration. Unlike similar declarations, delegations came directly to communities on the frontlines of the climate emergency on Kioa Island. The gathering was just ten miles from Rabi Island, where Banabans were forcibly relocated in 1945; Kioa was purchased by Tuvaluans from the island of Vaitipu in 1947. As opposed to holding high level dialogue overseas, the Declaration brought the conversation to the community: in the village hall, evacuation center, and into the very homes of Kioans. 
Key Demands
Over three days of deliberation, ICAAD served as part of the drafting committee for the Declaration, which features the demands most pressing to frontline communities in the Pacific, including: 
Greater action on mitigation, to reduce greenhouse gas emissions to align to the 1.5 degrees celsius temperature goal, to ensure survival of small island communities;

Urgent action on adaptation, including financing and support for community-led initiatives;

Urgent progress on the issue of Loss & Damage (L&D) including new and additional financing;

Ensure the just, dignified and safe movement of peoples, in the context of climate change;

Guaranteed access to finance, and the creation of more equitable finance arrangements, beginning with a review of regional and international financial architectures, with input from civil society organizations and other stakeholders;

Ocean policies that are compatible with climate goals;

Achieving intergenerational equity, ensuring we leave a better world for our descendants, by canceling climate debt and committing to a debt-free future.
Delegates from displaced communities including Rabi, Kioa, Cogea, and the Torres Strait Islands spoke of displacement and the need for "migration with dignity to be protected by law and promoted in policy." For ICAAD's Right to Life with Dignity project, the Declaration brings a sense of urgency to expanding legal protections at the international level. With the Rabi delegation, ICAAD's Erin Thomas presented on the project as well as the continued work on Rabi.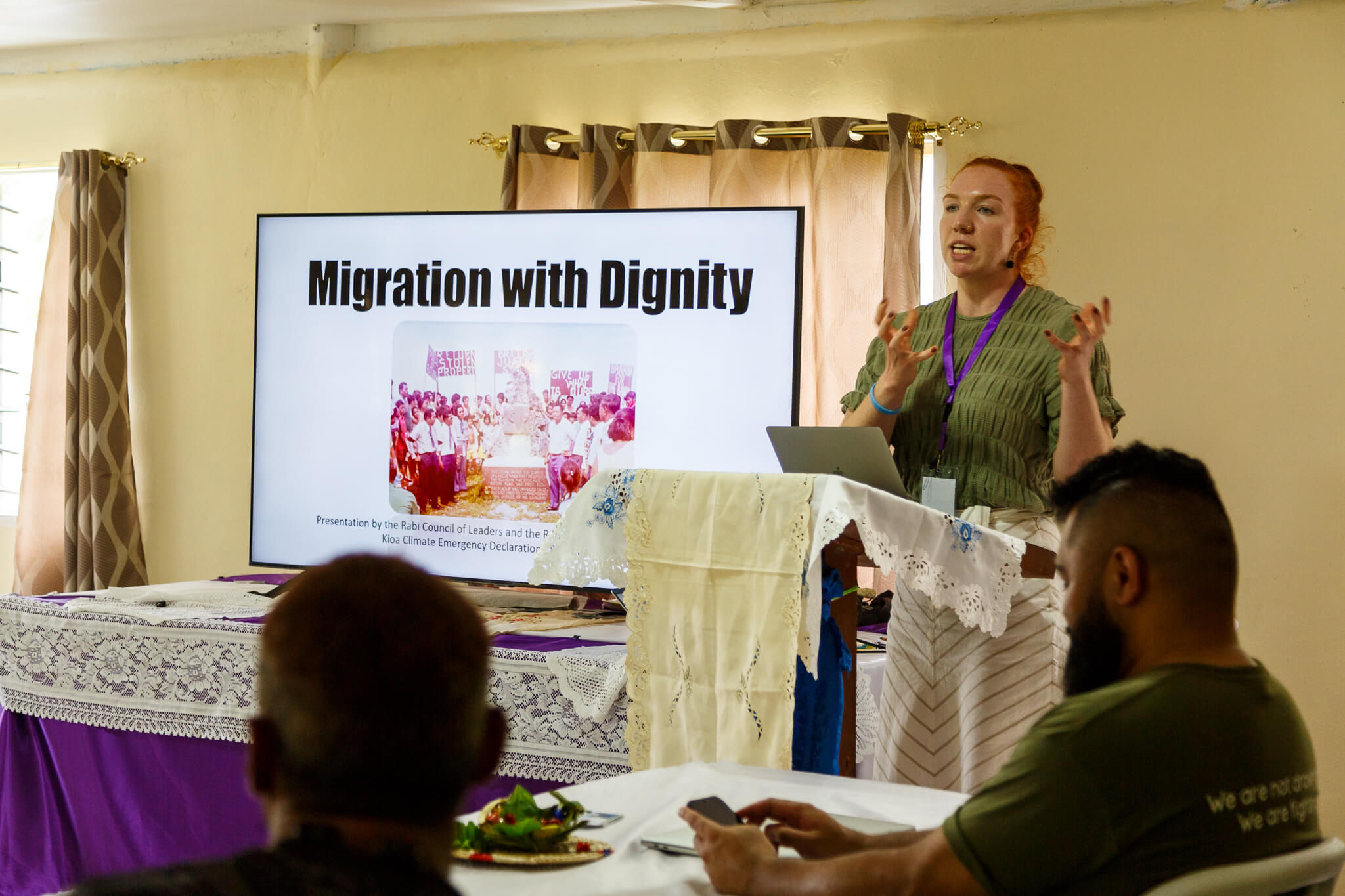 COP27 and the Power of Collective Action
The Kioa Climate Emergency Declaration will be taken to COP27 in Egypt this November to bring the demands from the frontlines to the international platform. Lawrence Nikotemo, Kioa Council Chairman, shared: 
"We now realize that we are not alone in this fight. After 75 years of being in Kioa, our commitments and strengths continue to grow because we know what it feels like to start with nothing in the land we now call home. The journey was not easy but today we have seen the fruit of our commitments. Our tears of resilience have brought us this far, political will and strong collective actions are needed to reverse the climate crisis. We have faith in the work of young people taking our stories to COP. This is a historic day for our people."
The Declaration is accompanied by the Kioa Pledge, which is a commitment from civil society representatives to ensure the communities they work with and represent can access resources, clearing pathways to climate finance mechanisms. This stemmed from discussions during the dialogue which explored how, even where climate finance and resources are available, the vast majority don't make it to communities. 
Signatories include:
The Kioa Council 

Pacific Council of Churches

350.org Pacific 

Pacific Climate Warriors 

Greenpeace Pacific 

Pacific Islands Climate Action Network (PICAN) 

Pacific Islands Association of Non-Governmental Organisations (PIANGO) 

Loss & Damage Youth Coalition Pacific 

Caritas Oceania 

Caritas Australia 

International Center for Advocates Against Discrimination (ICAAD) 

Rabi Youth Council, amongst other Pacific CSOs

Representatives from indigenous and frontline communities across the Pacific.