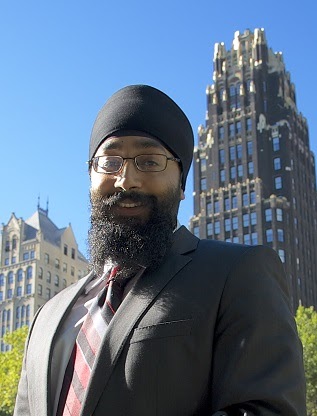 We are thrilled to spotlight our Co-Founder and Legal Innovator, Hansdeep Singh. Hansdeep's background is in public international law, which consists of the laws of war (humanitarian law), international criminal law, and human rights law. During his legal education, he worked with the judiciary and prosecution at the International Criminal Tribunal for the Former Yugoslavia and Rwanda and with the women's rights team of Human Rights Watch on policy related to domestic and sexual violence. After working on post 9/11 discrimination issues for two years, he and Jaspreet Singh Co-Founded ICAAD on March 12, 2012.
 At ICAAD, Hansdeep is focused on ensuring that the organization is pushing the boundaries on the types of tools advocates can use to advance human rights while identifying large scale structural problems our Team and partners are well positioned to engage. 
His current area of exploration is centered around how to reimagine an equitable society as we move toward becoming a multi-planetary species. Can we as a society have the foresight to not replicate our colonial/ racist past and prevent the dissemination of discrimination to the rest of the cosmos? Part of what animates this discussion is how to build a galactic community/ society without the exclusionary and arbitrary nature of Citizenship as the framework that provides basic rights and protections. 
Citizenship, which is inextricably connected with the birth lottery system has fostered a set of inequalities that leaves a super majority of the world mired in a type of Global Caste System, unable to elevate themselves educationally, financially, socially, or geographically because of random chance. To put this in perspective, even today, less than 4% of the global population lives outside their country of birth.
These concerns are brought into stark relief in one of our projects on climate-induced displacement. With climate change being one of the major existential risks we all face, how can those who face risks right now live a life with dignity when the law doesn't even recognize their circumstances as sufficiently dire to merit protection. Even though several regional systems globally exist to provide freedom of movement between rigid state boundaries, there is no international system to facilitate the seamless free movement of millions seeking to escape poverty, violence, discrimination, or climate change. And for those who are culturally or spiritually connected to their land and don't want to leave, what obligations does the state have to ensure they live a dignified life.
Today, we live in an era where transformational and exponential technologies like artificial intelligence, quantum computing, and synthetic biology could assist humanity in reaching its highest potential. Yet, these same technologies, when misaligned with our fundamental values, pose some of humanity's greatest threats, leaving us vulnerable to repeat our mistakes at a speed and scale unmatched in history. The question then is whether we can harness these tools for good, to guide us through the risks we currently face on earth and those we will face as we migrate beyond. And more importantly, can these transformational and exponential technologies help transform our own thinking, so that we can collectively envision an equitable and inclusive future for all.
What motivates your advocacy efforts?
Going back to the 1940s, my family has had to continually uproot themselves to find a place where they are accepted and where they could build a better future for their children. Facing grave challenges and narrowly avoiding the worst of the harms of the impending partition between India and Pakistan during India's Independence from British colonial power, the Iranian revolution, and the pogroms against Sikhs in India, my family has been fortunate to have the resources, fortitude, and education that enabled them to continually rebuild their lives. 
After 9/11 we faced a similar moment, questioning how we again would be "othered" in the country we claimed as home. This time I was in college and began to think about our history of forced migration. At that moment, I believed the only path for me where I could reclaim a sense of agency and shape the outcome of my life was by becoming a lawyer. For me, being a lawyer, and specifically a human rights advocate, was an act of defiance against the forces of hate and discrimination. Today, I am motivated by this same idea, but with a focus on providing an enabling environment for marginalized communities to find their own sense of agency, so that they can forge their own futures.
Who or what inspires you?
Since I was young, I have always been inspired by my faith, Sikhism, which from its inception challenged religious or cultural dogma that supported gender inequity, caste system, and tyranny. In principle and in practice, the idea of defending the rights of all people was deeply ingrained. For me, to have an opportunity to work in the service of others is the greatest gift and a reaffirmation of my faith. 
Moreover, I am inspired by my parents' resilience to remake themselves in the face of adversity while giving their two children every opportunity to flourish in this world. And finally my wife, Tejal Kaur, whose unwavering faith in me while also carrying much of the financial burden of our household during ICAAD's formative years, has paved the way for me to help shape the organization which is now approaching its 10th anniversary next year.
What is an important lesson that you'd like to share with other human rights advocates?
For most of the world's population, national and international systems do not provide the panoply of protections that are necessary to live a life with dignity. Human rights advocates must be unafraid to reimagine, reconstruct, and help restore the fragile balance we have on this planet, but also, to look further into the future and help shape the guiding principles that will see our species one day explore the expanse.
Connect with Hansdeep on LinkedIn.