We are honored to spotlight our Advisor, Zuleka Henderson. Zuleka is a licensed social worker from Brooklyn, NY, a Lecturer in Discipline at Columbia University's School of Social Work, and a cultural healing and anti-racism consultant based in New York City.  
What areas are you currently exploring?
Guided by my commitment to intergenerational healing for people of African ancestry, m
y research and practice have focused on historical trauma, strategies for healing-centered engagement with Black people and communities, and realizing equity and justice in Black mental health.
Most recently, I've been examining the role of historical and ongoing racial trauma in shaping how Black people perceive, pursue, and experience healing. I have also been investigating the role of historical and traditional healing practices in supporting intergenerational wellbeing for Black people. I'm interested in taking insights from my research to support the development of innovative, community-operated mental health care spaces that reflect Black cultural healing practices and preferences.
What motivates your advocacy efforts? 
I simply believe in all work that advances healing and love. I also believe that I have a responsibility to strive for the liberation of everyone who inhabits this Earth with me.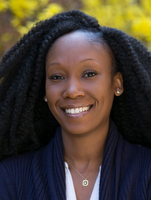 Who or what inspires you? 
I am inspired by my ancestors and by my nieces and nephews. When I reflect on all that my ancestors endured and overcame, I am honored to emerge from a legacy of such strength, audacity, and radical hope. I am encouraged to do my part to pass this on and to leave something greater for those who are coming up behind me.
Becoming an aunt allowed me to experience a whole new dimension of love, connection, and purpose. Having those little eyes look up at me motivates me daily to be my best self and to do all that I can to ensure that they inhabit a healthier world.
What is an important lesson that you'd like to share with other human rights advocates? 
I think it's important for human rights advocates to remember that radical self-care is an act of resistance and an important ingredient in the movement for justice. I'd encourage other advocates to extend the same grace and compassion toward themselves that they give to others and to regularly make space for their humanity. Your wellness is important to us.
You can check out Zuleka's recent publications here and here.