Discriminatory Laws Under the Spotlight

ICAAD with Seychelles President Danny Faure and Mauritius Advocates
The Commonwealth Equality & Justice Forum 2020 was hosted by the Royal Commonwealth Society and brought together over fifty Equality & Justice Alliance programme partners, Government officials, civil society leaders and legal experts to share experiences on reforming discriminatory laws in different Commonwealth countries.
At the Forum, which ran from Feb. 12-14, ICAAD launched and presented a new report, A Comparative Legal Review of the Impact of Gender Stereotyping on Judicial Decisions in Violence Against Women Cases Across the Pacific Island Region. The report was authored by ICAAD, and was commissioned and edited by Sisters for Change as part of its work under the Equality & Justice Alliance Programme to reform laws that discriminate against women and girls and LGBT people across the Commonwealth.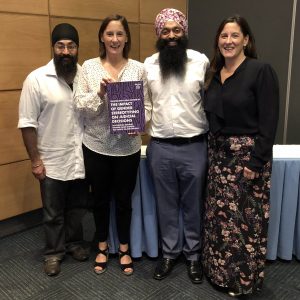 ICAAD and Sisters for Change Co-Founders
The report analyzes the development of international and regional standards and jurisprudence on State obligations to eliminate gender bias and stereotyping. It also identifies case studies of good practice from Commonwealth jurisdictions including Canada, Fiji, Namibia, Australia, New Zealand and the United Kingdom, which have produced pioneering case law and domestic legislation explicitly targeting gender bias.
Finally, the report examines the scope of gender-based violence against women and girls in the Pacific Island Region and provides an in-depth analysis of the impact of gender bias and stereotyping on judicial decisions in violence against women across seven countries in the Commonwealth Pacific Island Region – Fiji, Vanuatu, Tonga, Samoa, Solomon Islands, Papua New Guinea, and Kiribati.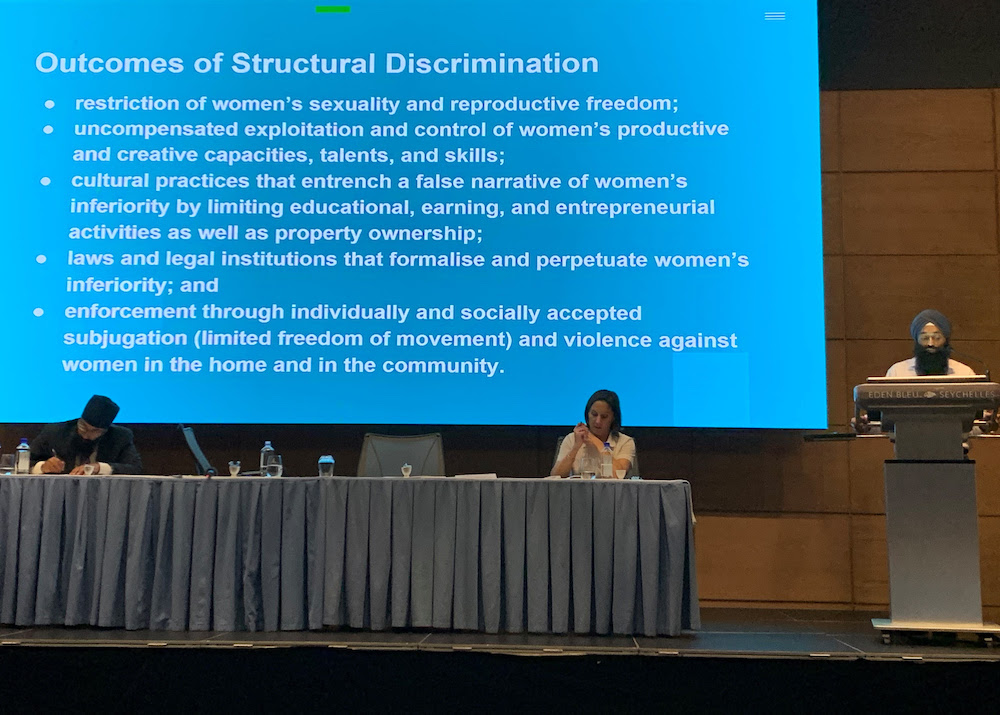 Jaspreet Singh Presenting on the Impact of Bias on Judicial Sentencing in GBV Cases
Some of the excellent presentations at the Forum included:
Ending Discrimination in the Commonwealth: Challenges & Opportunities

Application of Good Practice Research to the Reform of Sexual Offences Laws

Civil Society Insights on Curbing Faith-Based Backlash to Equality Laws

Building Technical Capacity and Engaging with Parliament and Civil Society to Reform Discriminatory Laws in St. Lucia

The Role of Youth Champions in Advancing Equality in the Commonwealth

Anti-Discrimination and Hate Crimes Legislation, Belize

Making the Case for Sexual Reproductive Health Rights

Advancing Equality in Seychelles

Gender Stereotyping in Violence Against Women Cases In the Pacific Island Region
The Conference included wide-ranging stakeholders in both civil society and government. Moreover, the President of Seychelles met with all the delegates from the Annual Forum and pledged that his country would reform its discriminatory laws this year.