The 63rd Convention on the Status of Women's (CSW) priority themes were social protection systems, access to public services, and sustainable infrastructure for gender equality and the empowerment of women and girls, and magnetized women from all around the globe to focus on these priority target areas and their relationship to 2030 Agenda for Sustainable Development. As an ICAAD Fellow, it was my first time attending; the experience overall was more powerful than anything I initially imagined; the women I was able to engage with face to face were resilient, brilliant, and resourceful. Having the opportunity to listen to their stories and means of building or improving their local support systems was a distinct reflection of why we were all present.
The primary theme at CSW63 was social protection mechanisms and supporting effective initiatives aimed at enhancing women's equality and preventing gender-based violence (GBV). There were many compelling panels addressing current global actions largely focused on the climate and resource issues in the global south and zones engulfed in conflict and climate imposed humanitarian crises. I had the privilege of learning about creative and effective programs that are reshaping how international women's rights work is conducted, and also got to hear directly from the change agents present in the room. There were several key themes that arose from both the panels and attendees that encapsulated the progress being made with the support of the UN, civil society organizations, and grass-roots working alongside those in direct-practice fieldwork. The experienced members in the field emphasized improvements in collaborative work amongst different agencies and organizations in commitment to the Agenda 2030 and the Sustainable Development Goals.
The first key theme was the continued struggle for inclusivity and equality for women. In addition to the global institutional and structural barriers to equality faced by women and girls, the spaces that are dedicated to conversations on women's rights still lack the appropriate recognition of the intersection of vulnerabilities that are woven throughout every aspect of gender inequality and violence against women and girls. For example, the primary theme of CSW in 2018 was on rural women, but although this year's theme was social protections, there was a lack of emphasis on rural women and the increased vulnerability they have. But what was agreed upon was the need for economic social protection, which private sector members seemed particularly enthusiastic about. 
It was clear throughout conversations on different panels that the private sector was not simply heading a call to fill the gap left by public-sector work, but rather, the private sector representatives were leading the initiatives to tackle challenges left by this gap. Another key theme this year was improved investing, evaluation, and protection policies for already launched initiatives, and knowledge sharing for future ones. However, the focus on private-sector amelioration felt void of the necessary geopolitical context driving vulnerability.
Women's issues and climate concerns are often discussed as mutually exclusive issues, but participants at CSW63 came from around the globe to share that these are symbiotic needs. Women and girls in rural areas are most vulnerable to global environmental risks and hold an immense amount of weight and knowledge in the climate crisis. It was demonstrably clear that communities at risk had means of preparing, mitigating, and adapting to climate change, but that there needs to be increased support, not just intervention. It was made clear by a panel discussing the Green Climate Fund that a majority of assistance has been injected into mitigation mechanisms. Only addressing this aspect feels centered in neoliberal policymaking, and could encourage community dependence on humanitarian aid. Preparation, adaptation, and recovery tend to rely on community members as change agents, whereas mitigation focuses on and requires external intervention. It was clear that CSOs are already working actively in these areas, and while many of the women that I heard speak showcased incredible resilience mechanisms of local communities, it was evident that the burden consistently falls on women and girls who are most vulnerable.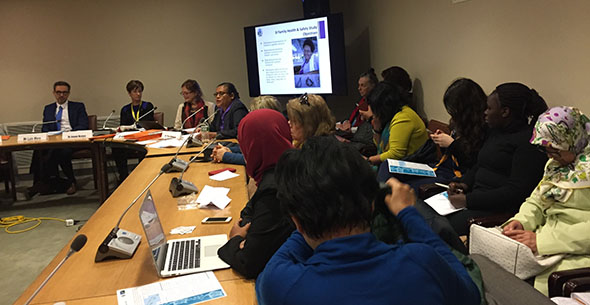 Another concern emphasized at CSW63 is that the person truly is political and visa-versa, and women's spaces cannot be separated from the political context. Many women shared stories about how their colleagues or people they knew in the field could not obtain the proper visa to attend the conferences, which was both unjust but also clearly tied to geopolitical affairs. In fact, the U.S. denied visas to women from Africa and the Middle-East who were planning on attending the conference. This was a shocking and stark reminder that although the UN is doing incredible work for women throughout the world, it is still reliant on the support of its member states. The efficacy of the event should not be compromised by eliminating activists from vulnerable communities who cannot participate due to resources constraints or politics.
Each panel representing CSW63 embodied two evident truths; that women's experiences embody violation of person-hood in all areas of life, and that women's resilience around this encourages life-saving adaptation and creative resilience that spans generations. The event was a culmination of every-day experiences resulting from political, institutional, and human rights abuses against women and other marginalized groups. CSW's benefits are not limited to progress in the field alone, but also how important women's input is because of their particular specialized knowledge. Women are the backbone of societies across the globe. The Conference on the Status of Women doubles as a space for healing and for speaking truth to the challenges that women, girls, and other marginalized groups face on a daily basis. Although there is still work to be done to improve the functionality of the Conference, CSW is a space where we can celebrate women's resilience while ensuring growth, transparency, and accountability in the fight for equality. 
Biography
Megan Candolfi earned her Master's Degree from The Columbia University School of Social Work, where she concentrated on International Public Policy and Social Welfare Services for Immigrants and Refugees. She is a Fellow with the International Center for Advocates Against Discrimination, spending her time researching the nexus between climate change and gender-based violence in the Pacific. Megan is deeply passionate about refugee and immigrant rights, gender equality, ecocide, and climate justice. She hopes to expand investigating these intersectionalities in Latin America and the Caribbean context.