Lawyers and local advocacy organisations will gain access to an important tool needed to identify gender bias within legal decisions made in Pacific Island Countries (PICs).
The International Centre for Advocates Against Discrimination (ICAAD) released a handbook detailing its methodology in examining sentencing patterns with a view to uncover Gender Based Violence (GBV) trends over a 20-year period.
This work is part of ICAAD's TrackGBV initiative to promote a data-driven methodology within leading governmental and civil society organizations throughout the Pacific Island region by 2021.
The handbook is being released today, on Human Rights Day, and follows the completion of a successful pilot initiative – also part of TrackGBV – that led to legislative and judicial reform in PICs.
The Gender-Based Violence (GBV) Sentencing Handbook is produced in partnership with global law firm Clifford Chance. It is primarily aimed at assisting lawyers and local advocacy organizations to analyse case law, while putting a spotlight on societal and community-level factors that both contribute to GBV and shape judicial attitudes, particularly when it comes to sentencing and its impact on accountability.
Commenting on the Handbook, Sam Harris, Associate at Clifford Chance stated that "it is crucial that any analysis tackling such a pervasive and deep rooted issue as GBV has a considered and robust methodology."
"We are confident that the Handbook provides a firm foundation for analysing GBV cases, as well as providing important context to the barriers in seeking redress for victims/survivors of GBV in PICs," said Harris.
ICAAD Co-Founder, Hansdeep Singh said while he was glad to see progress being made, preventable barriers continued to persist.
"When women and girls make the difficult decision to report, the justice system should not minimize their courageous act by using stereotypes, customary practices, victim blaming, or issuing inadequate sentences that do not reflect the gravity of the crime. However, it is important to recognize that judiciaries in the region, especially in Fiji, have taken concrete measures to reducing bias and we look forward to continuing our collaboration with the courts," he said.
Prior to its official release, ICAAD introduced the Handbook to over 30 stakeholders in Fiji, Tonga, and Samoa, including the Chief Justices of Tonga and Samoa and leading women's rights organizations including Fiji Women's Rights Movement, Tonga Women & Childrens Crisis Centre, and Samoa Victim Support Group.
The Handbook's release coincides with Human Rights Day and marks the culmination of the global 16 Days of Activism against Gender-Based Violence.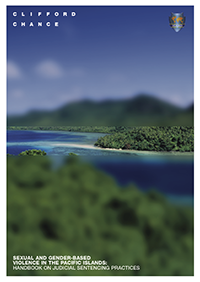 Sexual and Gender-Based Violence in the Pacific Islands: Handbook on Judicial Sentencing Practices
Want to learn about the societal and community-level factors that contribute to domestic violence, sexual offences, and shape judicial attitudes?