ICAAD has teamed up with Manatt, Phelps & Phillips, LLP and Fiji Women's Rights Movement (FWRM) to conduct a train the trainers program to combat sexual harassment in the workplace for major public and private sector groups across Fiji. The program is designed to be scaled and replicated in other jurisdictions.
According to a study of 1,000 women in four major cities (Suva, Lautoka, Nadi, and Labasa) in Fiji by Tebbutt Research, 20% of women on average face sexual harassment in the workplace, with incidence being the highest (35%) for those in the hotel and accommodation industry.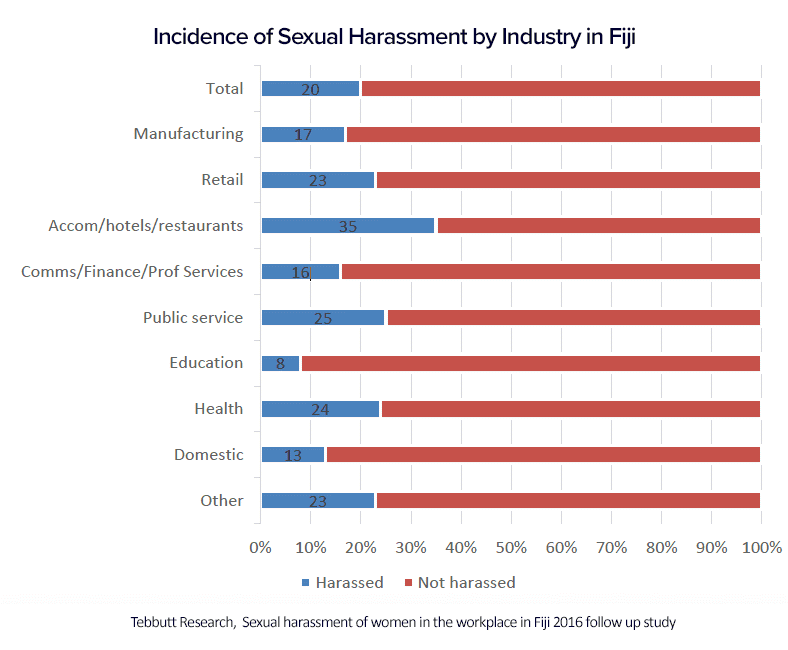 The potential participants for the training include: FWRM, Fiji Women's Crisis Center, Fiji Human Resource Institution, Fiji Employer's Network, Ministry of Employment, Productivity, and Industrial Relations for Fiji, The Fiji Trade Union Congress, Fiji Hotel & Tourism Association, Ministry of Social Welfare, Women and Poverty Alleviation, and the International Labor Organisation (ILO).
One of the best ways to reduce sexual harassment in the workplace is to ensure that there are clear procedures to guide conduct, document incidents, and prevent retaliation. Furthermore, leadership within companies must ensure rigorous implementation of sexual harassment policy and employers must be held legally accountable when they fail to uphold these values. Our goal is that local partners begin to replicate this training in multiple sectors by working closely with corporations and government institutions to design effective policy.
The training will be conducted November 27-29th, stay tuned for updates!