Training Law Students on Human Rights Accountability Institutionalizing UPR Accountability in Law Schools
New York, U.S.A. – October 28, 2014: In August 2014, ICAAD began a collaboration with the Leitner Center for International Law & Justice at Fordham School of Law. ICAAD staff designed a Universal Periodic Review (UPR) Training & Human Rights Lawyering program and are conducting the course as Clinical Supervising Attorneys. The in-person and virtual program provides experiential learning to students from the Leitner Center International Human Rights Clinic, led by Director Chi Mgbako.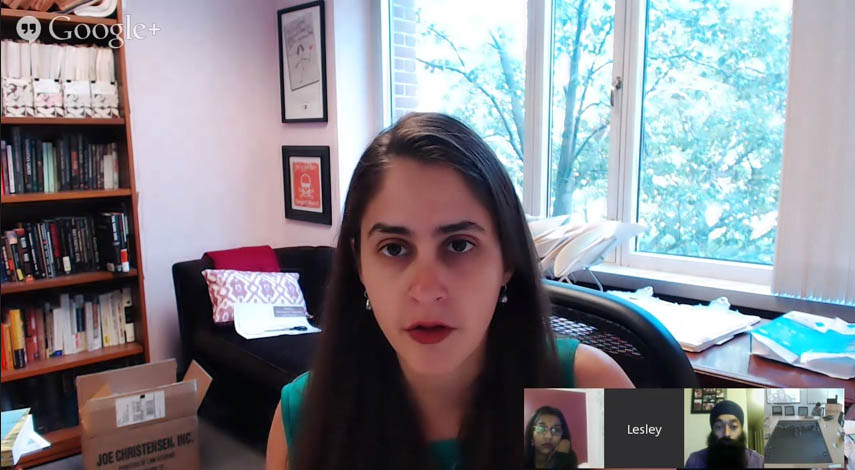 Lesley Wexler, Professor at Illinois Law School in Champaign, IL; Roshika Deo, Human Rights Lawyer in Suva, Fiji; Jaspreet Singh, ICAAD Co-Founder in Portland, OR; and Hansdeep Singh ICAAD Co-Founder, Leitner Center Students in New York, NY — Discussing Gender Equality & Structural Discrimination on Google Hangout.
One of the most formative courses for any young aspiring lawyer are the clinical courses offered in law school. These courses provide law students with the opportunity to work on real world problems and to begin applying their legal skills even before graduation. In our course, students are:
Learning how to define structural discrimination;
Identifying how structural discrimination manifests in society;
Conducting analysis on the Universal Periodic Review (UPR) to identify sources of structural discrimination that impact women and minorities globally; and
Drafting UPR Reports that will be submitted to the U.N. Human Rights Council as part of ICAAD's advocacy to strengthen accountability within the UPR system.
Part of the 12 week course includes a speaker series with experts globally discussing how they see structural discrimination in their respective fields. Three sessions are highlighted below:
Looking at Structural Discrimination through the Lens of Gender Discrimination: Perspectives from Academics & Advocates 
Lesley W
exler – Professor of Law at Illinois School of Law; expertise in international humanitarian law, human rights law, and sex discrimination. Roshika Deo – International Woman of Courage Awardee by the U.S. Dept. of State; human rights advocate; and recently ran for parliament in Fiji.
The Role of Impact Litigation in Addressing Structural Discrimination Domestically
 Tejinder Singh – Counsel, Goldstein & Russell, P.C.; expertise in Supreme and Appellate court litigation on issues of civil rights, financial regulation, privacy rights, and environmental protection.
Daniel Mach – Director of ACLU Program on Freedom of Religion and Belief; engages in a wide range of religious-liberty litigation, advocacy, and public education efforts nationwide, and often writes, teaches, and speaks publicly on religious freedom issues.
Looking at Structural Discrimination through the Lens of Gender Discrimination: Perspectives from the Judiciary
Judge Marjory Fields – Counsel Bedlock Levine & Hoffman LLP; retd. Family Law & Supreme Court of NY Judge. She has published articles and lectured extensively around the world on the topic of domestic violence, human rights of women, family law, and jurisprudence.
*More details to follow about the expansion of ICAAD's UPR Accountability Initiative to European law schools.
Learning About Human Rights SystemsWhy is the Universal Periodic Review (UPR) the cornerstone of the program?:
Universal: 100% buy-in from 193 UN Member states;
Periodic: human rights review process occurs every 4 ½ years;
Comprehensive: states, UN bodies, NGOs, academics, and human rights defenders all submit reports;
Peer Reviewed: other states make recommendations on how the State Under Review can improve its human rights record;
Accountable: states must accept or take notice of each recommendation; and
Consistent Monitoring: every 2 years states' implementation of recommendations are reviewed and every 4 ½ years the state must show steps it has taken to implement recommendations it has accepted.
The International Center for Advocates Against Discrimination (ICAAD) is a tax-exempt 501(c)(3) non-profit organization founded for the purpose of eradicating structural (institutionalized) discrimination globally, and to promote human rights norms consistent with public international law.ICAAD uses a systems approach to address structural discrimination on behalf of women and minorities globally. We identify gaps in the societal structures that marginalize vulnerable communities using an interdisciplinary approach that combines law, technology, and art. Our evidence based research utilizes teams of experts to identify specific structural discrimination policies, marshal resources and key partnerships, and provide strategic support of local NGOs with the aim of systematically uprooting discrimination within different societal sectors (e.g. legislative, judicial, law enforcement, health, faith, etc).For more information, please visit: www.icaadglobal.org