Artist advocates explore the intersection of art & discrimination illuminating injustice through the universal language
ICAAD celebrates its first year with an art exhibition, live music, and silent art auction
NEW YORK, December 19, 2012 – The art exhibition, "Exploring the Intersection of Art and Discrimination," celebrated ICAAD's first year of protecting the rights of vulnerable communities. Using the universal language of art, talented artists exhibited their work on issues of women's rights, minority rights, disability rights, racial identity, and religious freedoms to benefit ICAAD, a nonprofit organization whose mission is to combat structural discrimination and to promote human rights norms through the use of domestic and international law.
ICAAD is partnering with artists around the world to bring human rights awareness to the global village. Hansdeep Singh, Director of Legal Programs at ICAAD said, "Art provides a refuge from the disquietude that results from the grave topic of discrimination. It allows an individual to go beyond the pain and understand the context for why we continually struggle as a society to overcome inequality. Art raises awareness of the value of human dignity, an inalienable right that doesn't exist for many of the world's vulnerable populations."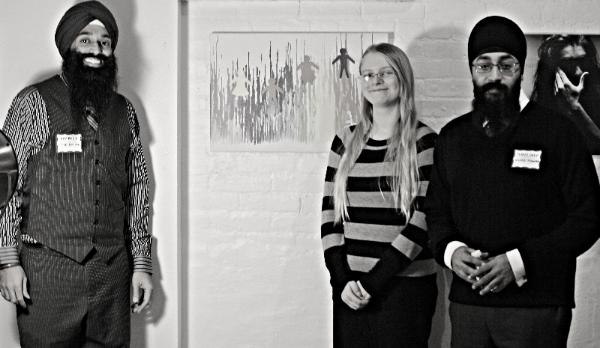 In response to seeing her work being hosted in the gallery, Rebecca DiTota said, "I feel that art is one of the greatest expressions understood by all, and that my photography would best demonstrate what I wanted to convey. My pieces were inspired by my handicapped brother and the discrimination he faces in school and in society as a whole. It was a true honor to have my work displayed, and participating in the event is a memory I will never forget."
The exhibition was also a fundraiser for ICAAD, with proceeds of the silent auction being divided by the non-profit and the artists. Some of the art work that was exhibited is still available, please contact us if you are interested.
View photos and video of the art, music, and gallery.
The gallery included the work of eleven artists from around the US and Canada: Oregon, N. Carolina, Connecticut, Massachusetts, New York, Florida, Michigan, and Toronto. The event featured 26 pieces for sale and also included live music by socially conscious performers including: Anya Skidan, K-Sise & Junclassic, and Alycea and the X-Isles.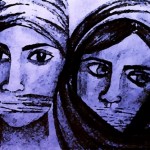 "This piece depicts two Sikh women, both wearing different articles of faith, a dastaar (turban) and a chuni (headscarf)."The French ideals of Liberty, Equality, and Brotherhood are called into question by the piece which highlights the 2004 French legislation preventing those belonging to minority faiths from manifesting their religious identity. "The women are gagged in this piece to symbolize the legislation silencing their voices and identity," said artist Lakhpreet Kaur.
This is the first step in ICAAD's development of a traveling art and discrimination exhibition which will, in time, be held in various places around the world.  We are expanding our artist base to various countries to raise awareness about discrimination in places where ICAAD is engaged in advocacy or litigation.