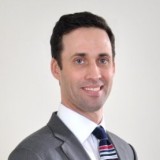 Sean is an associate in Shearman & Sterling's Capital Markets – Americas group with experience representing and advising corporate, sovereign and investment banking clients in connection with a range of public and private multi-jurisdictional offerings. The firm is a long-standing leader for high yield debt and leveraged finance and has a large market share for equity and convertible debt securities advice in the US and worldwide, along with a strong company counsel practice offering sophisticated securities law and corporate advisory services.
Prior to his role at Shearman & Sterling LLP, Sean worked with the international law firm, Linklaters, in their Hong Kong office, acting for clients across industries and the region, including various sovereigns, as a part of the firm's award-winning capital markets practice.
Before his legal work, he served in the Office of the President of Capital One Bank as a Financial Analysis Manager. While at Capital One, he also acted as the local CFO for an award winning team that built an asset sales program that eventually executed transactions with aggregate principal value of over $10 billion. He chaired the Global Finance Department's financial education volunteerism committee, leading the creation of a departmental service program as well.
As one of the founding board members and now board chair, Sean helped establish ICAAD and has worked to lay the foundation for the current and future growth of the organization, including facilitating some of the key relationships for the organization and providing leadership on certain key initiatives.
Sean has also served as a Board member at the Coalition for Debtor Education, a non-profit dedicated to providing financial education services to at-risk groups.
Education: Fordham, JD, cum laude (2013), Thunderbird, MBA in International Finance (2006), University of Vermont, BA in Political Science and Asian Studies, phi beta kappa (2004).
Notable Achievements (e.g. publications, awards, recognition): FT Innovative Lawyers 2014 commendation, Finance Asia Deal of the Month, Capital One Circle of Excellence and Bank One Award.