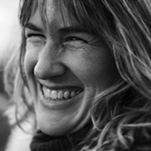 Linda Raftree is a co-founder of Kurante, LLC and has worked at the intersection of community development, participatory media, youth, gender, and information and communication technologies (ICT) since 1994. She has advised The Rockefeller Foundation's Evaluation Office on the use of ICTs in monitoring and evaluation and worked with Plan International USA on youth engagement, innovation, transparency and strategy. She has also conducted research on adolescent girls and ICTs for UNICEF, the role of ICTs in child/youth migration for the Oak Foundation, the use of mobile technologies in youth workforce development for the mEducation Alliance, and ICT-enabled monitoring and evaluation for Rockefeller.
In addition to working through Kurante, Linda is a co-founder of Regarding Humanity, which encourages debate and dialogue around the portrayal of 'the poor' in the media, social impact work, and non-profit marketing. She coordinates Technology Salons in New York City and advocates for greater dialogue and discussion around the ethics of ICT use and data privacy in the humanitarian and development space. Linda also writes 'Wait… What?,' a blog about ethical uses of new technology in community development work, and tweets at @meowtree.
Linda served on ICAAD's Board of Directors from 2013-2016.