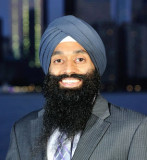 Jaspreet K. Singh is the Co-Founder and Director of Policy & Advocacy for the International Center for Advocacy Against Discrimination  (ICAAD), a non-profit organization dedicated to combating structural discrimination and promoting human rights norms consistent with public international law.
Jaspreet handles a variety of concerns at ICAAD leading the portfolios of litigation, policy analysis and advice, government and media advocacy, and deployment of technologies; he also works on grant proposals, human rights education, video and graphic design, and community organizing. 
His experience includes being a Clinical Supervising Attorney for a Universal Periodic Review (UPR) Training & Human Rights Lawyering Program at the Leitner Center for International Law & Justice at Fordham Law School; presenting at the United Nations 62nd DPI Conference on nuclear disarmament between India and Pakistan; assisting in the filing of cases against France before the UN Human Rights Committee, and presenting various civil and human rights issues before UN special rapporteurs, the White House, members of Congress, and other US government agencies. He has worked in New York and other parts of the country on several hate and bias related crime cases, as well as other civil rights campaigns.
Jaspreet graduated from Florida State University with a Juris Doctorate degree and Certificate in International law, and is admitted to practice before the Ninth Circuit Court of Appeals and in Georgia. He has his Bachelor's in Philosophy and Political Science from Emory University in Atlanta, where he was born and raised.