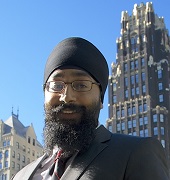 Hansdeep Singh is Co-Founder and Director of Legal Programs for the International Center for Advocates Against Discrimination (ICAAD), a litigation and advocacy center focused on the eradication of structural discrimination globally and the promotion of human rights norms consistent with public international law. His experiences include work at Human Rights Watch (HRW) women's rights and legal division focusing on domestic violence and religious freedom.  At the International Criminal Tribunals of Rwanda and Yugoslavia, he worked with a team of experienced international lawyers in chambers and also with the Office of Prosecution (OTP) to address mass atrocities (i.e. crimes against humanity, war crimes, and genocide).
In 2011, he authored a Report arguing that the treatment of specific minorities by the Transportation Security Agency (TSA) amounted to degrading treatment in violation of Art. 16 of the Convention Against Torture (CAT). He also he co-authored the Global Sikh Civil & Human Rights Report in 2010.
Additionally, Hansdeep has published extensively in law review journals:
Article, European Union: Impact of Airport Security Regulations on Sikhs, 45 THE INT'L LAWYER 385 (2011)
Article, Crimes Against Humanity Bill of 2009: The Domestic and International Implications of Addressing Impunity through   National Legislation, 17 ILSA J. INT'L & COMP L. 23 (2010)
Note, The Efficacy of Indefinite Detention: Assessment of Immigration Case Law in Kiyemba, 5 U. MASS. ROUNDTABLE SYMP. L. J. 188 (2010)
 Article, Critique of the Mrkšic Trial Chamber (ICTY) Judgment: A Re-Evaluation on Whether Soldiers Hors de Combat are Entitled to Recognition as Victims of Crimes Against Humanity, THE LAW & PRAC. OF INT'L CTS. & TRIBUNALS, Vol. 8, No. 2, pp. 247-296 (2009)
Note, Bringing Fairness to Extradition Hearings: Proposing a Revision of the Evidentiary Threshold for Political Dissidents, 38 CAL. W. INT'L L.J. 177 (2007)
Hansdeep graduated Fordham School of Law with a L.L.M. in International Law & Justice and graduated from California Western School of Law (CWSL) with a J.D., and is a member of the New York (and soon to be California) bar. He has his BA in Biology and History from the University of Southern California (USC) in Los Angeles, where he grew up.