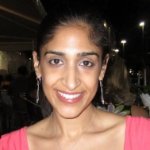 Asees Anand is an independent consultant for various multi-national and political organizations in New York. Prior to living in NYC, Asees began her career in Brussels, Belgium where she worked as a public affairs consultant for GPlus Europe. Asees joined GPlus from the European Commission's Trade department, where she coordinated the department's engagement with the European Parliament, particularly with regards to the Doha Development Agenda and on-going Free Trade Agreements. In that context she was also responsible for drafting a report on future implications of the Lisbon Treaty on the relationship between the European Parliament and European Commission's Directorate General of Trade.
Previously, Asees was with the World Federation of Advertisers, headquartered in Brussels, where she worked on international advertising and communication issues.  She also dealt with issues on brand management and sustainable development with regards to commercial communications within the European Union.
Education:
Asees holds a Masters Degree in Politics and Government of the EU from the London School of Economics & Political Science. She also graduated magna cum laude with a B.A. in International Affairs from George Washington University with a double concentration in International Politics and Conflict and Security. In addition, she has studied at Al-Akhawayn University in Ifrane, Morocco and at Insitut d'Etudes Politiques (Sciences-Po) in Paris, France.
Personal Background & Passion:
Born in Kobe, Japan, Asees moved to the USA at the age of 5. She has traveled extensively throughout Europe, North Africa and Asia and speaks fluent English and French, and has basic knowledge of Hindi, Punjabi and Japanese. Asees is also a trained singer in Musical Theatre/Opera, Pop, and Kirtan (Sikh hymns).
Asees currently resides in NYC with her husband, Harpreet Singh Anand, and their two children.