Summary
More than 60% of women and girls in the Pacific Islands have faced domestic violence or sexual assault, in contrast to about 35% worldwide according to the World Health Organization (WHO). In fact, in the Pacific Island Countries (PICs), the rate of physical or sexual violence against girls and women (G&W) is 60% – 80% based on prevalence studies conducted by the U.N. Population Fund (UNFPA).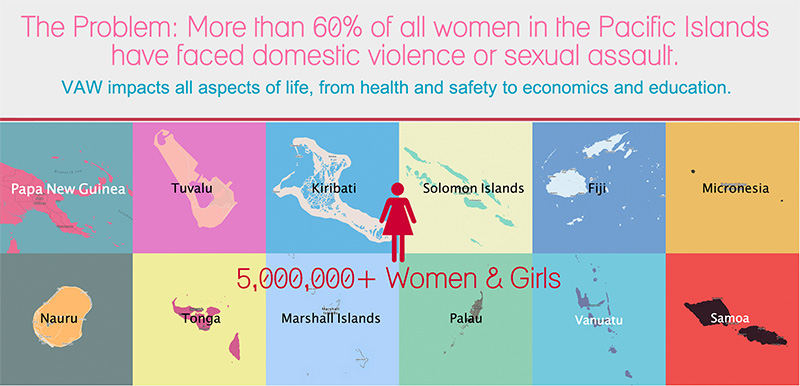 By understanding the scope of the problem in the region, PICs are beginning to allocate resources to training law enforcement, passing domestic violence legislation, and creating departments within government focused on combating gender based violence. However, the challenge is that changing policy is one step, changing behavior takes a completely different approach.
Patriarchal norms within the PICs have embedded gender discrimination within the very structures of society that should be providing avenues for justice, redress, and protection. These structures are allowing perpetrators to escape accountability for their crimes, especially with regard to low sentences imposed for sexual and gender-based violence (SGBV). These patriarchal beliefs lead to a lack of accountability in combating SGBV, which impacts over 6 million G&W in the region.
ICAAD uses a systems approach to address structural discrimination which affects women and minorities. This systems approach is accomplished by identifying gaps in the societal structures that marginalize vulnerable communities, and by using an interdisciplinary methodology which combines law and technology.
We are taking a holistic approach and building cross-sectoral partnerships to uproot gender inequality within systems: law enforcement, judiciary, legal professionals, and healthcare. Our Clinton Global Initiative (CGI) Commitment to Action focuses on two tracks: 1) rule of law; and 2) technology (text mining and semantic analysis). The evidence based research that comes out of our rule of law initiatives provides verifiable data that can be used to build systems to automate our research and analysis to ensure more efficient monitoring of human rights implementation. Our Commitment was recognized by Secretary Hillary Clinton at the annual CGI meeting in September 2014.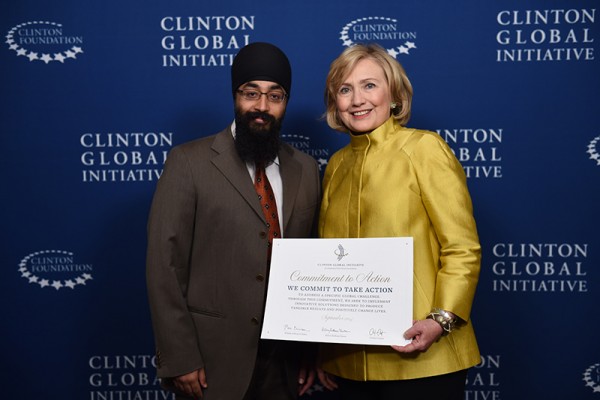 ICAAD and Partners' CGI Commitment to Action Being Recognized by then Secretary Hillary Clinton at CGI Annual Meeting 2014
Problem
Women in the Pacific Islands face many structural barriers to accessing justice for Sexual and Gender Based Violence (SGBV). For example, law enforcement personnel sometimes attempt to keep SGBV cases out of the courts and at the same time, even if cases reach the judiciary, judges mitigate or suspend sentences for perpetrators because of cultural practices of reconciliation or because judges believe that incarceration of the "sole bread winner" would make the family destitute.
Over half of judges, in over 940 cases reviewed, believe that gender stereotypes or cultural reconciliation practices can be used to mitigate sentences in SGBV cases. Furthermore, health professionals consistently under-report domestic violence and fail to gather evidence of rape.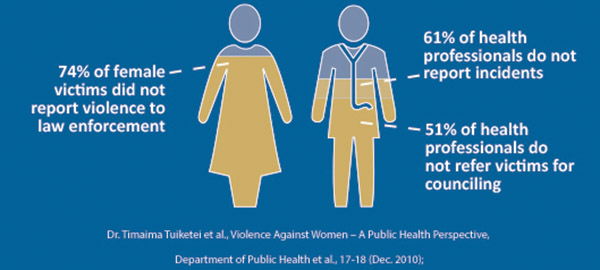 Institutional violence against women is supported by societal tolerance of SGBV. Survivors of sexual assault and domestic violence are often blamed for causing family instability. Women who seek counsel from faith leaders are often told to reconcile with the perpetrator because faith leaders default to cultural norms and are ill equipped to provide proper counsel.
These facets of discrimination manifest at all levels of society and are actively impeding the safety and equality of women in Pacific Island Countries.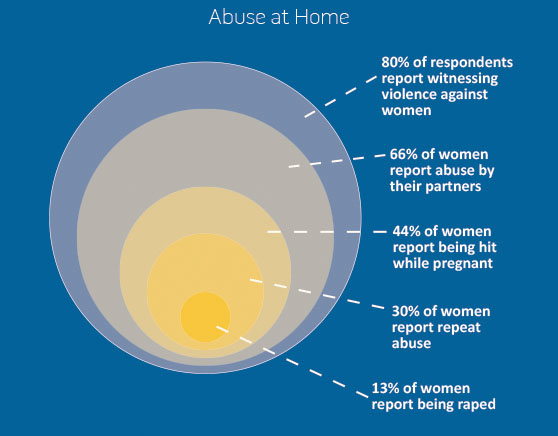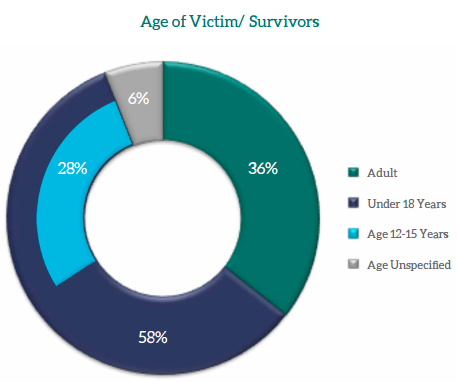 Interventions
ICAAD and partners are working on a number of strategic interventions combining law, technology, and art to combat violence against women in the Pacific Islands. These interventions focused on strengthening the rule of law were identified with local stakeholders including local women's rights NGOs, UN Agencies, Regional Bodies, local governments:
Case Law Analysis: Conducting extensive case-law analysis of over 1,500+ sexual and gender based violence (SGBV) cases in 12 Pacific Island Countries,  to establish sentencing standards because cultural norms and stereotypes influence judges to mitigate or suspend custodial sentences, and helping women's rights advocates better track and enforce legal protections. Establishing a legal research database to better track judgements and the implementation of new SGBV legislation.
Access to Justice: Conducting trainings and consultations with Legal Professionals (prosecutors), Law Enforcement, and 

Judges

 to ensure that cases are properly investigated, prosecuted, and adjudicated.
Medico-Legal Trainings: Medical professionals are the gatekeepers to ensuring that crucial evidence is properly collected, preserved, documented, and turned over to authorities. We will conduct trainings to improve medical professionals' technical expertise, evidence collection and preservation, and the ability to withstand scrutiny on the witness stand in court proceedings.
As part of our CGI Commitment to Action, are also engaging in an innovative technology project to use semantic analysis and text mining to increase judicial transparency and accountability of the rule of law. 
OUTPUTS
Through these transdisciplinary interventions, ICAAD and its partners want to ensure that gender equality is a fundamental part of this framework. Our objectives over the next three years are:
Persuade judges and prosecutors, using evidence-based research (e.g. case law analysis) and training, that using gender stereotypes and cultural norms to reduce sentences for perpetrators of domestic violence and sexual assault erodes the rule of law, limits women's ability to access justice, impacts consistency in sentencing, reduces accountability, and conflicts with both domestic Fijian legislation and international treaties Fiji has ratified, such as CEDAW.
Sufficiently arm local and regional NGOs with evidence based research and data analytics to work and advocate with government (Attorney General's Office, Members of Parliament, Judiciary) to revise sentencing guidelines and consider the efficacy of mandatory minimum sentencing in sexual offense and domestic violence cases.
Police, prosecutors, and healthcare workers stop encouraging women to reconcile with those who commit sexual or physical violence, and instead begin documenting, reporting, and prosecuting such incidents.
Legal professionals understand how they can better serve survivors of SGBV by harnessing both domestic and international law and developing a pro bono ethic.
Medical professionals better document and provide expert testimony during the prosecution of SGBV cases.
Tech
Case Law Analysis: Identify sexual offence and domestic violence cases in 10 PICs, manually review 1,000+ cases, and extract 20+ variables in each judicial decision for further analysis. The data analysis will assess trends and patterns in judicial sentencing practices (from 2000 – 2014), such as the use of gender stereotypes and cultural norms (e.g. reconciliation/ bulubulu) as a form of mitigation in sentencing. Create a legal research database to track whether recently enacted or amended (within last 5 years) domestic violence and sexual assault legislation in these countries is having the desired impact.
Text Mining & Semantic Analysis (Fiji Pilot): The ability to automate extraction of specific variables in case law through text mining (extraction of specific words/ phrases) and semantic analysis (understanding relationships between words) will allow us to efficiently monitor sexual and gender based violence cases on an ongoing basis. We are developing an algorithm that can separate out sexual offense and domestic violence Fijian cases from 13,000+ legal cases hosted on PacLII. Next, we are building dictionaries of key terms/ phrases that allow for automatic extraction of key qualitative and quantitative information. Furthermore, through an iterative process the dictionary and algorithm will be refined to improve accuracy and for application to future cases that come into ICAAD's case management system. Finally, by comparing our manual review of Fiji cases with the automated process, our final result will have a high level of scientific certainty on the efficacy of the automation process. Our CGI partners on the project are leading data science (CKM Advisors) and big data (Data-Pop, collaboration of MIT Media Lab, Harvard Humanitarian Initiative, and Overseas Development Institute (ODI)) specialists.
SGBV Legal Research Database: We are building a legal case management database with HURIDOCS, who are human rights information technology specialists. Women's rights NGOs will be trained to access and utilize the data analytics provided by CaseBox. This will allow us to preserve the most extensive database of sexual offence and domestic violence cases and provide civil society and the judiciary with the most accurate and real-time data on sentencing practices.
OUTPUTS
Capacity Strengthening/ Policy Change: Sufficiently arm local and regional NGOs with evidence based research and data analytics to work and advocate to revise sentencing guidelines and consider the efficacy of mandatory minimum sentencing in sexual offence and domestic violence cases.
Building a Culture of Data Analytics: The use of data in the PICs is extremely poor. This will allow both civil society and government to take steps towards reform through an evidence-based approach rather than in ad hoc fashion. More importantly, many PICs have only recently enacted domestic violence legislation. Tracking domestic violence cases over time will allow for concrete recommendations on how implementation of the legislation can be improved.
Academic Paper: This will be written in collaboration with our technology partners, CKM and Data-Pop, to assess the efficacy of automation for case law. This will discuss areas where there has been success, where the process can be improved, and barriers to successfully implementing a text mining and semantic analysis approach (e.g. inconsistent formatting of judicial opinions).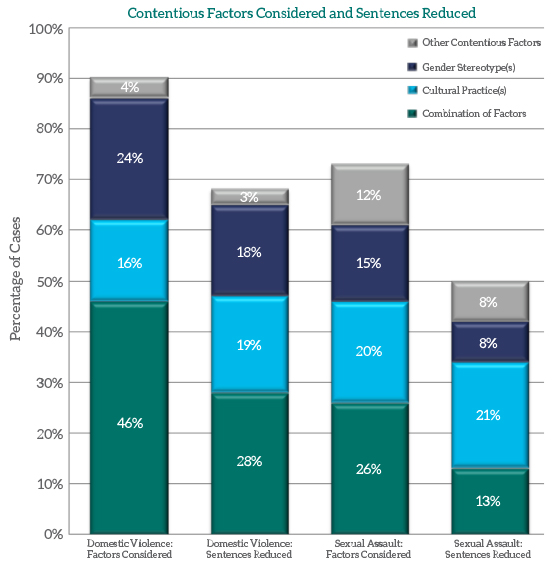 Team
LAW FIRMS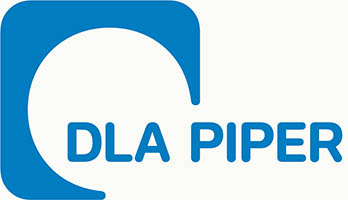 DLA Piper LLP, is committed to pro bono that supports access to justice and rule of law around the world. We encourage our 4,200 lawyers to do pro bono work, much of which focuses on education, human rights, nonprofits and charity law, juvenile justice and veterans support.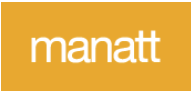 Manatt, Phelps & Phillips LLP, has committed itself—as a firm and as a community of professionals—to promoting the ability of all citizens to have access to the legal system. Manatt is a progressive law firm deeply committed to diversity, to public service, to involvement in the communities we serve.
TECHNOLOGY & DATA SCIENCE

CKM Advisors is a leading data analytics company specializing in solving problems and clarifying complex processes through transparent analytics of structured, semi-structured and un-structured data. CKM Advisors is providing experts in data analytics to define specific indicators on sexual and gender-based violence (SGBV) that can be measured using case law reports and track these indicators over time.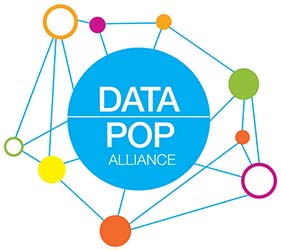 Data-Pop Alliance is a think-&-do initiative on Big Data and development co-created by the Harvard Humanitarian Initiative (HHI), the MIT Media Lab, and the Overseas Development Institute (ODI) to promote a people-centered Big Data revolution. Our goal is to leverage and shape the future of Big Data to foster human development and social progress through the ethical use of personal digital data and empowerment of the poor in ways that avoid the pitfalls of a new digital divide, de-humanization and de-democratization.

 Global Insight International provides innovative research, evaluation, and outreach support to clients working in international development, economic and political analysis, and gender equality and female empowerment. Global Insight will employing their research and field expertise to design an effective M&E framework, ensuring that outputs are measurable, clear and on target. Global Insight will also assist in background research and policy analysis for each PIC to complement quantitative metrics.

HURIDOCS is an international NGO helping human rights organisations use information technologies and documentation methods to maximise the impact of their advocacy work. Huridocs will be developing a regional Case Law Analyzer for local women's rights NGOs and activists to better analyze, index, and database court decisions on VAW, many of which have not been uploaded to an accessible database. The goal of is to improve transparency, accountability, and credibility of the judiciary.
UNIVERSITY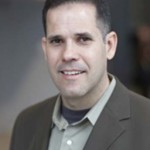 Carlos Teixeira, Associate Professor at IIT Institute of Design in Chicago. He has over 20 years of experience in design and innovation projects. He applies innovative methodologies and design tools in the areas of new business development, open innovation, value chain, and brand strategy. Carlos research and teaching at IIT focus on strategic design with several published articles on the subject. Carlos holds a Ph.D. in Design from the Institute of Design, and was previously associate professor at Parsons The New School. In Brazil he graduated in Design at PUC-Rio.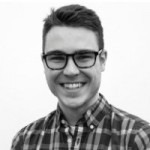 Joseph Wheeler: Joe's focus is in dissemination of ideologies. He is specifically interested in exploring how we might design systemic interventions in media and policy to begin to combat and eliminate harmful and discriminatory social norms.  Joe has a Masters in Fine Arts in Transdisciplinary Design from the Parsons the New School for Design, and graduated from Washington University in Saint Louis with a Bachelors of Art in Architecture and second major in Religious Studies.