Our Team
Board of Directors
---
Advisory Committees
Legal
---
Transdisciplinary
---
Development
---
Former Board Members
---
Former Advisors
Mission & Transparency
Vision
As societies build walls of separation between communities, ICAAD works to remove each brick to illuminate our common humanity.
Mission
The International Center for Advocates Against Discrimination (ICAAD) is non-profit organization that combats structural discrimination and promotes human rights norms consistent with public international law. Structural discrimination refers to systems of inequality that provide a social, political, cultural, or economic advantage to a dominant group while furthering barriers of exclusion that make marginalized communities more susceptible to violence and indignity. ICAAD brings together passionate multidisciplinary teams of lawyers, data scientists, universities, and design strategists to improve access to justice for women, girls, and vulnerable communities, while strengthening the capacity of civil society and government.
Transparency
ICAAD is recognized in the United States as tax-exempt under section 501(c)(3) of the Internal Revenue Code. Your charitable donation is tax-deductible. ICAAD incorporated in New York in 2012 as a nonprofit corporation.
Financial Statements
Below you will find ICAAD's financial statements. For further information, please contact (917)971-5713.
IRS 501(c)(3) Tax Exempt Determination Letter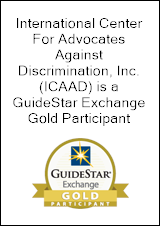 Contact
E: info (at) icaad.ngo
Twitter: ICAADGlobal
Facebook: ICAADGlobal

Phone: 917-971-5713
Fax: 646-807-4647
EIN: 45-4552704